Discovery.  It was last year that we first stopped at the unassuming doorstep of Frederic Michot. We had little more to go on than a brief note in a French wine guide promising small scale, excellent Pouilly-Fumé. The rutted tracks in the ridges above the hamlet led to a modest house with a small tasting room.
Frederic himself was away, but his mother greeted us warmly and proudly showed us her son's two wines — pure, unoaked, beautiful Sauvignon Blanc. Our favorite was an old-vine cuvée, made from vines planted in the 1940s — "juste après la guerre," as Madame put it. We ordered our first lot a few days after our visit, and then had to re-up very soon after our readers got a taste.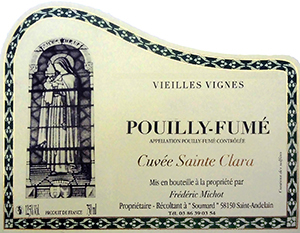 Fresh.  We're pleased to report that Michot's 2014 was not a fluke — his 2015 Vieilles Vignes is just as ripe and round, with excellent intensity and beautiful harmony. This nose shows mango, grapefruit rind, and straw; the mouth shows ripe grapefruit, lime rind, and honey. The wine is at once mouthfilling and electric, with a persistence of richness and freshness that the Guide Hachette called "remarkable."
Grilled shrimp, pan seared scallops, broiled haddock, steamed Maine lobster — these will all form a harmonious and delightful match with this wine. Or if fruits de mer aren't your thing, try a glass with another invention of the Loire Valley — goat cheese on a crusty piece of French bread.
________________________

MICHOT Pouilly-Fumé Vieilles Vignes 2015
Ansonia Retail: $24
case, half-case: $18/bot


_
AVAILABLE IN  6-  AND 12-  BOTTLE LOTS
_
or call Tom: (617) 249-3657
_
_
_____________________________
Sign up to receive these posts in your inbox:

_
_____________________________

_____________________________