Finesse.  When we write about minerality, it's usually in the context of a white wine. The Chardonnay of Chablis and the Rieslings of the Mosel Valley are prized for their stony clarity, drawing minerality from the limestone- and slate-laden soils. But minerality is a quality in red wines as well, and at its best can contribute an ethereal elegance and vibrancy.
The red Burgundies of Volnay are known for their singular, mineral elegance. The soils of Volnay contain a high percentage of limestone, and far less clay than neighboring Pommard — the result is delicate wines that are the height of Burgundian finesse. We're excited to introduce a new one today — Roger Belland's premier cru Volnay from the famous "Santenots" vineyard.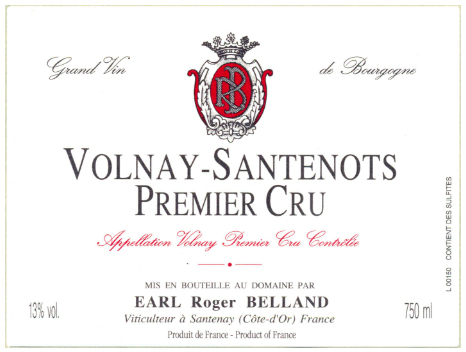 Fruit and mineral.  The Belland Domaine is a 6th generation operation in the Côte de Beaune. Their style in pinot noirs is of full, juicy fruit, and ripe, punchy tannins — in Santenay and surrounding towns this creates pleasant, fruit-forward wines that are delicious young. But apply Belland's juicy style to an exceptional highly mineral terroir of Volnay, and you have an exquisite combination.
Belland's Volnay 1er cru 2014 is dark and brooding in the nose, with notes of currants, cinnamon, wild cherries, and pine. The mouth is far richer than you might expect from Volnay, but the town's signature lacy delicacy persists on a long and elegant finish. This will cellar for another 3 or 4 years with ease, adding more woodsy and mushroom notes with every year. But with a decanter and an hour or two of forethought, this would be an elegant pairing for a rack of lamb this winter.
________________________

BELLAND Volnay 1er cru "Santenots" 2014
Ansonia Retail: $70
quarter-case: $59/bot


_
AVAILABLE IN  3-   6-  AND 12-  BOTTLE LOTS
_
or call Tom: (617) 249-3657
_
_
_____________________________
Sign up to receive these posts in your inbox:

_
_____________________________

_____________________________