Golden.  In our search for expressions of terroir, we never tire of sampling local flavors. Oysters from Belon, chèvre from the Loire, butter from Isigny — these foods represent their regions as much as any stony Chablis or rich Châteauneuf-du-Pape.
When it comes to olive oil, our source of choice is Tuscany. The golden elixir from the rolling Tuscan hills shares only a name with most grocery store varieties. The "real stuff" is one of the world's greatest culinary elements — a finishing agent that can add a wide range of flavors, including fruit, earth, nuts, and straw.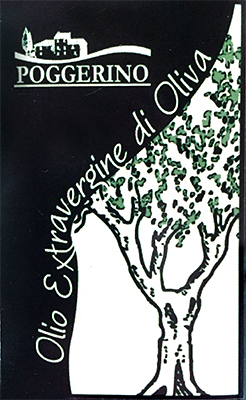 Oil!  Many readers know the Fattoria Poggerino from their excellent and well-priced Chiantis; but they're also responsible for an exceptional, small-batch olive oil. Like another of Italy's finest exports — real Parmigiano Reggiano — the distance between the genuine article and the cheap imitations is evident. As our extended family can attest, one taste of Poggerino Olive Oil and it becomes hard to serve anything else.
Scientists continue to extol the virtues of a Mediterranean diet, so we're sure you could find a health reason to buy this olive oil. But in our family, Poggerino's Olive Oil is the ultimate gustatory luxury. We reserve it exclusively for dishes where it won't be heated: tossed with salads, or drizzled on roasted fish just before serving. Fair warning: this will ruin most other olive oils for you.
________________________

POGGERINO Olive Oil (500ml tin)
Ansonia Retail: $34
quarter-case: $28/tin


_
AVAILABLE IN  3-   6-  AND 12-  TIN LOTS
FREE EAST COAST SHIPPING ON 12 TINS
_
or call Tom: (617) 249-3657
_
_
_____________________________
Sign up to receive these posts in your inbox:

_
_____________________________

_____________________________