Winter is Coming.  Châteauneuf-du-Pape is the perfect wine for cold weather. Made famous by French popes in the 14th century, and then again by Robert Parker in the 1980s, the area is rich with winemaking history. Today the appellation, which covers only about 12 square miles, produces some of the most sought after wine in the world.
Here are four Chateauneuf-du-Papes from four different producers. They all have between three and nine years of bottle age, and show the impressive variety of terroir available from the appellation. With fall here and winter on its way, this is the perfect mixed case to keep you warm.
As a bonus, the buyers of the first six samplers ordered will receive a new detailed map of the appellation (see photo here). [UPDATE: Map sold out.]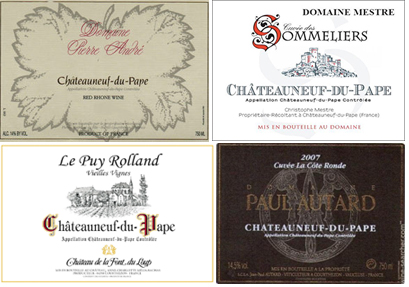 ANDRÉ Chateauneuf 2012
Pierre André may be the original source for organic Chateauneuf-du-Pape. Their small batch red is intensely concentrated, drawing from vines with an average age of over 70 years. Look for notes of licorice, wild cherry, and prune.
MESTRE Chateauneuf 2013
Christophe Mestre is a young winemaker who is beginning to gain acclaim in the press. Vinous's Josh Raynolds awarded this wine 90 points, calling the palate "sweet and seamless," and highlighting notes of "cherry compote," "raspberry" and "anise."
FONT DU LOUP Chateauneuf "Puy Rolland" 2013
Made exclusively from 100-year old Grenache vines, this special cuvée from the Chateau de la Font du Loup is exceptional. With extremely concentrated fruit and beautiful fine-grained tannins, look for notes of strawberry jam and a silky mouthfeel.
AUTARD Chateauneuf "Cote Ronde" 2007
The Domaine Paul Autard is among the most celebrated sources in Chateauneuf, and his luxury cuvée, called Côte Rônde, is the finest wine he makes. This 2007, from a vintage considered the best in decades, is not one to miss.
________________________

_
CHÂTEAUNEUF-DU-PAPE SAMPLER
3x   ANDRÉ Chateauneuf-du-Pape 12:   $54
3x   MESTRE Châteauneuf-du-Pape 13:   $35
3x   FONT DU LOUP Châteauneuf "P. Rolland" 13: $54
3x  AUTARD Châteauneuf "Cote Ronde" 07:   $80

(+ Free Map for first 6 buyers) [UPDATE: Map sold out.]
Ansonia Retail: $669
offer price: $565/case

free East Coast shipping    |    save $104
_ 
_
–
– _
_____________________________
Sign up to receive these posts in your inbox:

_
________________________


________________________

Terms of sale. Ansonia Wines MA sells wine to individual consumers who are 21 or more years of age, for personal consumption and not for resale.  All sales are completed and title passes to purchasers in Massachusetts.  Ansonia Wines MA arranges for shipping on behalf of its customers upon request and where applicable laws permit.