Cote d'Or. "If gold were a flavor," Matt Kramer once wrote, "it would taste like Meursault." Though it has no Grand Cru vineyards, the wines of Meursault are some of the most sought after in the world. For most, the name recalls white Burgundies of decadence, opulence, and style.
We began buying from Vincent Boyer more than a decade ago, and since then the international wine press has widely acclaimed him as a rising star — his wines regularly score in the 90s, and his stocks evaporate faster every year. This year, for the first time in many years, Boyer offered us the opportunity to buy some of his Meursault "Narvaux," a village level white considered among the finest in the town.
Combine this exceptional terroir and Boyer's 60- and 70-year-old vines with the highly celebrated 2014 vintage, and you have a very special wine.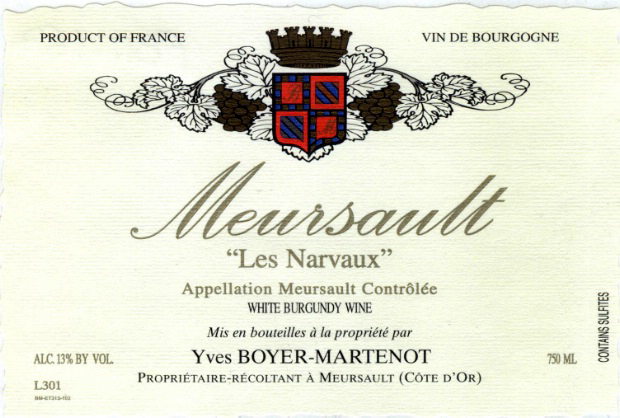 Royalty. The Narvaux vineyard perches above Meursault's row of premier crus, and borders the famous Genevrières vineyard. The wine is classic Meursault, with a wonderful mouthfilling intensity drawn from the richness of the fruit, not the oak. The nose is round and generous, showing buttery toast, hazelnut, and apricot. The mouth is full but tense, showing dense notes of pear and white flowers, with an energetic and tense finish.
This is classic, rich, extraordinary white Burgundy, which is the finest and most impressive expression of Chardonnay. Vincent suggests serving this with a simple broiled fish dressed in butter and lemon — we also suggest lobster as an exquisite pairing. Or begin a dinner party this holiday season with a glass of this Meursault — your only problem will be figuring out how to follow it with something as good.
________________________

BOYER-MARTENOT Meursault "Narvaux" 2014
Ansonia Retail: $62
quarter-case: $54/bot


_
AVAILABLE IN   3-   6-  AND 12-  BOTTLE LOTS
_
or call Tom: (617) 249-3657
_
_
_____________________________
Sign up to receive these posts in your inbox:

_
_____________________________

_____________________________
Terms of sale. Ansonia Wines MA sells wine to individual consumers who are 21 or more years of age, for personal consumption and not for resale.  All sales are completed and title passes to purchasers in Massachusetts.  Ansonia Wines MA arranges for shipping on behalf of its customers upon request and where applicable laws permit.