Two for two.  This past June we went searching for a new source in the Beaujolais. One morning we lined up two tasting appointments in Juliénas, one of the ten Beaujolais Cru. The first domaine (last week's Jean-Marc Monnet) was so good that we continued to the second mostly as a matter of courtesy.
It's good thing we did — the wines at our second visit were so impressive that we decided we couldn't pass them up. The Domaine Laurent Perrachon is an old family domaine in Juliénas whose wines are as complex and delicious as anything we've had in the Beaujolais. These resemble far more the Pinot Noirs of Burgundy than the unserious wine for which Beaujolais is best known.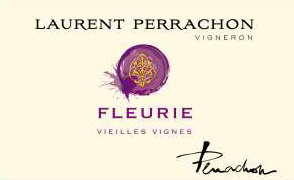 Inky.  Perrachon is one of very few Beaujolais winemakers to be featured in both Burghound's (Allen Meadows) newsletter and Antonio Galloni's Vinous, and most wines scored in the 90s in both publications. Today we're introducing his 2015 Fleurie, an exceptionally pretty wine that's representative of this most elegant and floral of Beaujolais towns.
The nose shows beautiful violets, wild cherries, and rose petals, with a hint of licorice. The mouth has the unmistakable mark of 2015, the ripest vintage in years. The old vines provide density and concentration unusual for gamay, with notes of raspberry and blackberry, and a long, dense, elegant mouthfeel.
This is more refined than Monnet's Juliénas, but also carries the region's signature joviality. It's more proof that 2015 is not a year to miss in Burgundy.
________________________

PERRACHON Fleurie 2015
Ansonia Retail: $24
case, half-case: $18/bot


_
AVAILABLE IN   6-  AND  12-  BOTTLE LOTS
_
Email Tom to place an order.
or call Tom: (617) 249-3657
_
_
_____________________________
Sign up to receive these posts in your inbox:

_
_____________________________

_____________________________
Terms of sale. Ansonia Wines MA sells wine to individual consumers who are 21 or more years of age, for personal consumption and not for resale.  All sales are completed and title passes to purchasers in Massachusetts.  Ansonia Wines MA arranges for shipping on behalf of its customers upon request and where applicable laws permit.