Bargain.  Prices in Bordeaux have never been higher, fed by global demand, particularly from China. With this spring's release of the highly anticipated 2015s, the trend upward will likely continue. With value in mind, we often consider second wines of famous vineyards, or secondary properties from famous winemakers.
Christian Dauriac, for example, owns the Chateaux Destieux and Montlisse in St. Emilion. Destieux, a Grand Cru Classé, is his flagship, and deserving of all the praise it receives. But the Grand Cru Chateau Montlisse is an extraordinary bargain that we have enjoyed for years. It's the product of an accomplished winemaker with excellent terroir, but offered at a far more reasonable price.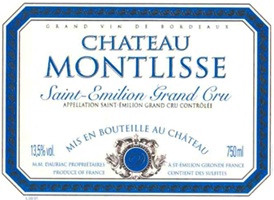 Cassis.  We're delighted to see how well the 2011 Bordeauxs are drinking these days. In a year overshadowed by the famous 2009 and 2010 vintages, the 2011s are quietly delicious. Montlisse is 85% Merlot, and 7.5% each of Cabernet Franc and Cabernet Sauvignon. The classic Saint-Emilion notes of plum and cassis join a pleasant toastiness and cozy notes of dark chocolate and tobacco.
Good Bordeaux can carry a three- or even four-figure price tag, but it's good to remember that it doesn't have to. This is classic right bank Bordeaux, five years on from the harvest, and drinking beautifully. It's a perfect wine for a chilly Sunday afternoon — decant this for an hour and pair with either with steak or veal, or a long, slow roast.
________________________

MONTLISSE Saint-Emilion Grand Cru 2011
Ansonia Retail: $38
case, half-case: $32/bot


_
AVAILABLE IN   6-  AND 12-  BOTTLE LOTS
_
or call Tom: (617) 249-3657
_
_
_____________________________
Sign up to receive these posts in your inbox:

_
_____________________________

_____________________________