Small-batch.  The 2015 vintage continues to impress. An unusually warm and sunny year resulted in wines of deep richness and concentration, even in regions where ripeness is often a concern. In the Beaujolais, home to our new winemaker Jean-Marc Monnet, the Gamay reached a density that resembles northern Rhône syrah.
Many readers picked up some of Monnet's 2015 Juliénas last month, a dense, chewy, gulpable red Burgundy with exceptional depth. Today we're releasing his 2015 Chiroubles, a sister cuvée to the Juliénas, with more elegance and finesse. Monnet is an understated producer — his domaine has no road sign, no website, and (until us) no American importer. But the quality of his terroir and skill is evident from the first sip.
Bargain.  The Chiroubles is prettier than the Juliénas, with a perfumed and floral nose, but the same rich juicy, gulpable mouthfeel. The nose is precise and ripe, with notes of cranberry, violets, graphite and minerals. The mouth is a delight — inky and vibrant, with crackling fruit and delicious, juicy tannins.
As we've said before, Beaujolais may be the perfect Thanksgiving red — it's on our holiday table nearly every year. The combination of supple tannins with ripe young fruit means it pairs perfectly with a wide range of heavy, flavorful foods. But this Chiroubles will make friends long after the 24th. Serve it alongside cheese and crackers at a holiday party, or send it to someone as a gift — just don't tell anyone what you paid for it.
________________________

MONNET Chiroubles 2015
Ansonia Retail: $19
case, half-case: $15/bot


_
AVAILABLE IN   6-   AND  12-  BOTTLE LOTS
_
Email Tom to place an order.
or call Tom: (617) 249-3657
_
_
_____________________________
Sign up to receive these posts in your inbox:

_
_____________________________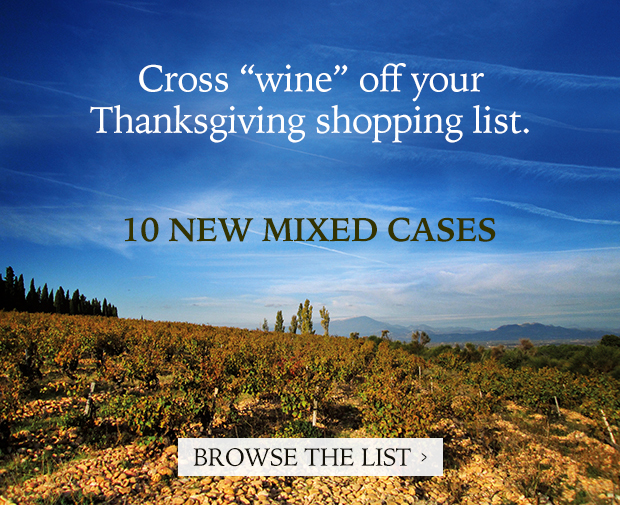 _____________________________
Terms of sale. Ansonia Wines MA sells wine to individual consumers who are 21 or more years of age, for personal consumption and not for resale.  All sales are completed and title passes to purchasers in Massachusetts.  Ansonia Wines MA arranges for shipping on behalf of its customers upon request and where applicable laws permit.