Easy.  With the turning of the calendar this weekend, sparkling wines abound. Indeed, if you're in need of French, small-batch, grower bubbles, we can help. But with winter weather officially here, we thought we'd make the final post of 2016 something rich we can all enjoy.
The Chateau Maucoil is a centuries old winery in Châteauneuf-du-Pape, built on the site of a Roman-era spring. We recently wrote about Maucoil's unusual and delicious "Cuvée 1895," made from 120-year-old vines just outside the appellation. Today's wine is the real deal — a blend of Grenache, Syrah, Mourvèdre and Cinsault, it's a classic, easy-drinking Châteauneuf-du-Pape with great richness and excellent depth.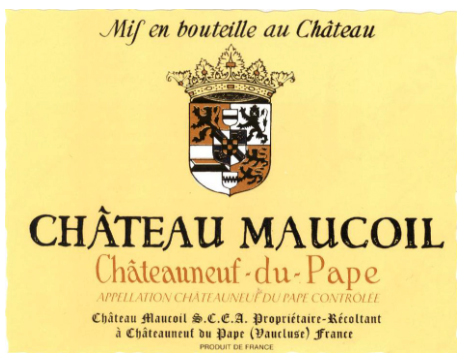 Smooth.  Maucoil's high percentage of Greanche produces and an expressive and enticing nose — look for red notes of strawberry jam and lavender. The other three grapes contribute darker notes, showing licorice, chocolate, and tobacco. On the palate the wine is concentrated and juicy, with pleasant tannins presented in a long, silky mouthfeel.
It's hard not to like Châteauneuf-du-Pape — nowhere else in the world do popular grapes like Grenache, Syrah, and Mourvèdre take on such complexity and intensity. From an appellation where bottles over $60 are commonplace, Maucoil's red is a refreshingly affordable bottle.
The days may be lengthening, and the year coming to a close, but with a long winter ahead we know no better antidote than a rich Southern red.
________________________

MAUCOIL Châteauneuf-du-Pape 2014
Ansonia Retail: $40
case, half-case: $34/bot


_
AVAILABLE IN   6-    AND   12-   BOTTLE LOTS
_
Email Tom to place an order.
or call Tom: (617) 249-3657
_
_
_____________________________
Sign up to receive these posts in your inbox:

_
_____________________________

_____________________________
Terms of sale. Ansonia Wines MA sells wine to individual consumers who are 21 or more years of age, for personal consumption and not for resale.  All sales are completed and title passes to purchasers in Massachusetts.  Ansonia Wines MA arranges for shipping on behalf of its customers upon request and where applicable laws permit.