Hidden.  The town of Ladoix is easy to miss. It's not famous — most people blow right by it on their way to the Côte de Nuits to the north or the city of Beaune just to the south. But over the years we've found excellent values here, and none better than those from the family winemakers at the Domaine Ravaut.
Ladoix sits at the base of the famous hill of Corton, a large outcropping known for its white and red Grand Crus. The red village wines of Ladoix don't have the staying power of the famous Grand Crus they border, but they offer quicker maturity and far friendlier prices. It's a source for overlooked, delicious red Burgundies.
Classic.  Today's Ladoix from the Domaine Ravaut is from their "Carrières" vineyard, named for the ancient limestone quarry once there. As you might expect, the vineyard's soil is particularly rich in limestone, and the resulting wines have a delicate, beautiful minerality. The 2014 vintage produced red Burgundies with fine, supple tannins and a pleasant juiciness, and this wine is an excellent representative of the vintage.
Ravaut's Ladoix Carrieres 2014 is elegant and lovely. The nose is fragrant and expressive, showing wild cherries and fresh raspberries. The texture in the mouth is outstanding — there's 2014's signature ripe juicy fruit, but the palette lengthens into a velvety richness, bolstered by a fine, chalky minerality that makes it hard to put down.
We'd serve this with anything calling for traditional red Burgundy — a mild pork roast, veal in cream, or a simple roast chicken.
________________________

RAVAUT Ladoix "Carrières" 2014
Ansonia Retail: $38
case, half-case price: $32/bot

_
AVAILABLE IN   6-   AND  12-   BOTTLE LOTS
Email Tom to place an order.
or call Tom: (617) 249-3657
_
_
_____________________________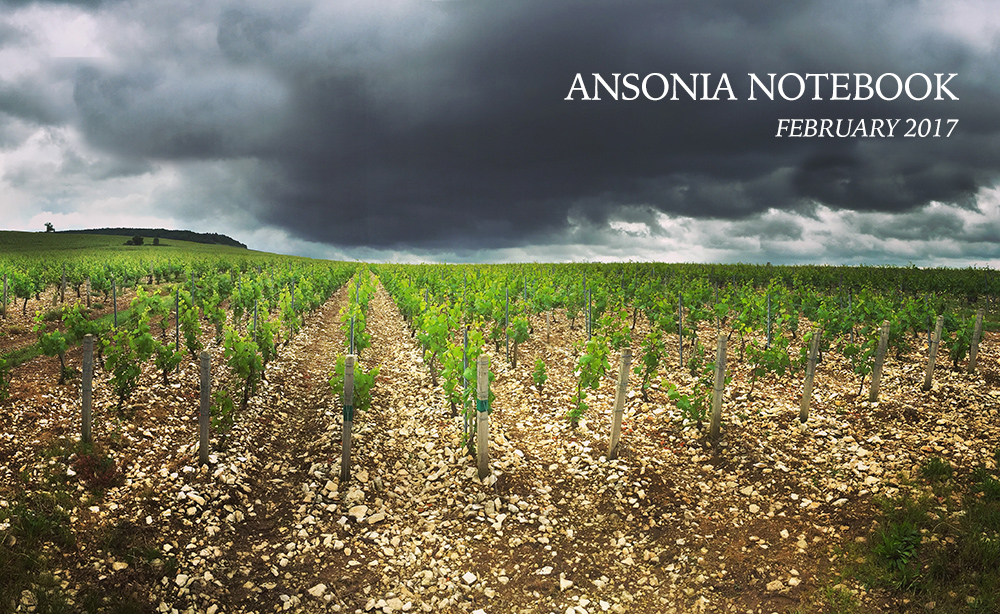 Sign up to receive these posts in your inbox:

_.
_____________________________
Terms of sale. Ansonia Wines MA sells wine to individual consumers who are 21 or more years of age, for personal consumption and not for resale.  All sales are completed and title passes to purchasers in Massachusetts.  Ansonia Wines MA arranges for shipping on behalf of its customers upon request and where applicable laws permit.