New Cuvée.  Here in the US, we're wary of monopolies. But in Burgundy, at least in the winemaking world, they're championed. A mônopole is the unusual circumstance where one vigneron owns an entire vineyard. After centuries of splitting holdings among inheriting sons, a single-owner vineyard is rare.
Michel Gros's most famous mônopole is his Clos des Réas, an extraordinary premier cru vineyard in Vosne-Romanée. But as of last year Gros has a second: this mônopole, called the Fontaine Saint Martin, is in the hills to the west of Vosne, in a beautiful, rugged region called the Hautes-Côtes de Nuits. And it's from this plot that Gros crafts his only white.
With so many excellent reds, we sometimes wonder why Gros bothers with a white at all. But one taste of this wine will settle the question.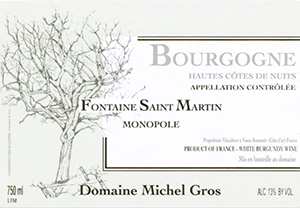 Ancient.  The Fontaine-Saint-Martin vineyard is named for an ancient Cistercian abbey nearby dating to 1127. The hillside of vines has been in production for centuries, and tended by Michel and his father before him for the last 40 years. Gros blended the wine from this plot into his regular Hautes-Côtes de Nuits blanc until the 2014 vintage, when he determined the terroir was sufficiently different to merit its own cuvée.
The Fontaine Saint Martin is indeed special — its soil is the same mix of marl, clay, and limestone found on the Hill of Corton. The wine may not match the richness or longevity of a Corton-Charlemagne, but it's smooth floral quality will call to mind the famous Grand Cru. Michel happened to pick an excellent year to isolate this cuvée — the 2014 vintage was a gift to white Burgundy growers, producing wines with exceptional balance.
Decanter Magazine awarded the 2014 Fontaine-St-Martin blanc 90 points and called it "superb wine;" after the bottle we opened last night we can't disagree. The nose is smooth and silky, showing orchard fruit, pear, and white flowers. The mouth is rich and long, but bolstered by beautiful acidity and crisp minerality. Serve it with chicken in cream sauce, or, at Michel's suggestion, snails in garlic and butter.
________________________

GROS Fontaine-Saint-Martin blanc 2014
Ansonia Retail: $40
case, half-case price: $34/bot

_
AVAILABLE IN   6-   AND  12-   BOTTLE LOTS
Email Tom to place an order.
or call Tom: (617) 249-3657
_
_
_____________________________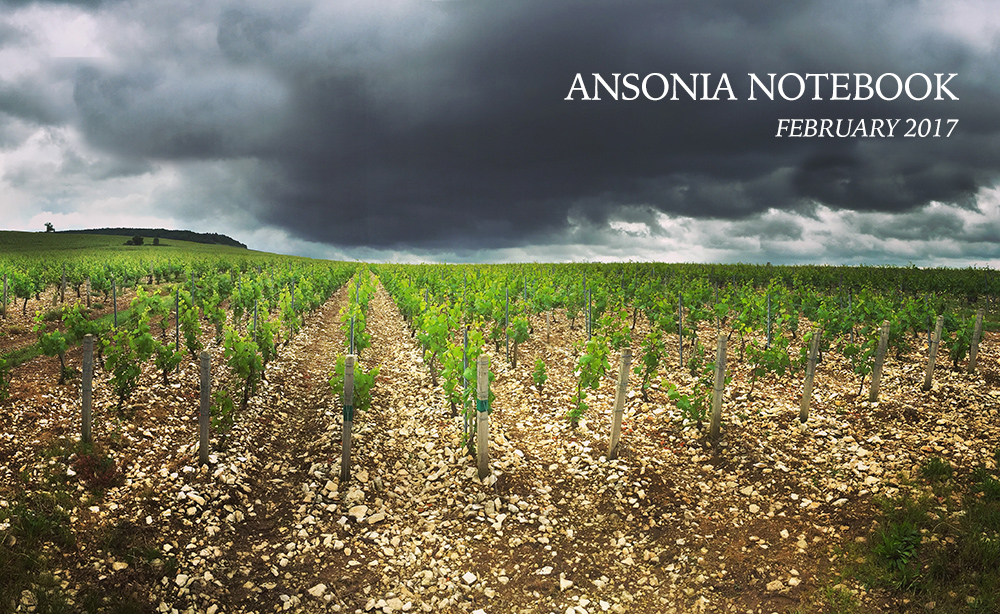 Sign up to receive these posts in your inbox:

_.
_____________________________
Terms of sale. Ansonia Wines MA sells wine to individual consumers who are 21 or more years of age, for personal consumption and not for resale.  All sales are completed and title passes to purchasers in Massachusetts.  Ansonia Wines MA arranges for shipping on behalf of its customers upon request and where applicable laws permit.