Ever since one half of the Ansonia team relocated to the coast of Maine, our collective fish and shellfish consumption has risen rapidly. With fresh catches rolling in daily, it's hard to avoid the stuff — and who would want to? Of course our white wine consumption has spiked as well, and we keep a handful of favorites at the ready for when the oysters or haddock in the local market looks particularly good.
But thanks to modern grocery infrastructure, you don't have live on the water to enjoy its fruits. So if there's room for fish in your diet, we've collected some of our favorite whites to pair: a classic Muscadet from the Loire, a floral white Burgundy from the Maconnais, and two traditional unoaked wines from Chablis. You choose the fish and preparation; we're here to help with something for your glass.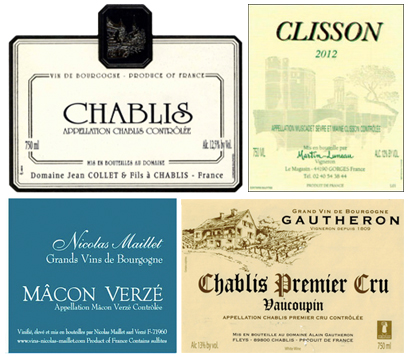 Martin-Luneau Muscadet "Clisson" 2012
This is from the new generation of Muscadet: cuvées held longer on the lees to gain mouthfeel and complexity. Look for notes of grape skin, salt air, and melon; pair with oysters.
Maillet Macon-Verzé 2014
Maillet's pure, unoaked Chardonnay has a rich mouthfeel but excellent freshness as well. Look for notes of green tea, honeysuckle, and straw; serve with scallops and basil.
Collet Chablis 2015
Collet's Chablis is pure, honest, and unadorned, full of brisk freshness and clean fruit. Look for ripe meyer lemon and minerals in the mouth; serve with broiled haddock.
Gautheron Chablis 1er cru Vaucoupin 2014
This premier cru Chablis is dense and concentrated, from a perfectly balanced vintage. Look for lemon zest, herbal notes, and a hint of saline; serve with breaded baked cod, or sushi.
________________________

_
WHITE WINES FOR FISH
3x   Martin-Luneau Muscadet "Clisson" 2012:   $24
3x   Maillet Macon-Verzé 2014:   $30
3x   Collet Chablis 2015:   $24
3x   Gautheron Chablis 1er "Vaucoupin" 14:   $30
Ansonia Retail: $324
offer price: $269/case

free East Coast shipping    |    save $55
_ 
_
–
– _
_____________________________
Sign up to receive these posts in your inbox:

_.
_____________________________
Terms of sale. Ansonia Wines MA sells wine to individual consumers who are 21 or more years of age, for personal consumption and not for resale.  All sales are completed and title passes to purchasers in Massachusetts.  Ansonia Wines MA arranges for shipping on behalf of its customers upon request and where applicable laws permit.