Inky.  The impossibly steep hillsides of the Côte Rôtie seem like the last place in the world to grow vines. With slopes reaching 60 degrees in places, all field work — planting, pruning, treating, harvesting — must be done entirely by hand. Every time we visit we wonder aloud what on earth would drive people to plant vines here.
And then we visit the Bonnefonds. Côte Rôtie syrah is unlike any other — at once dense and balanced, inky and crisp, mouthfilling and fresh. Christophe and his brother Patrick produce small batches of beautiful, concentrated syrah. Their domaine is a bit hard to find, but their wines are pure and fine; Robert Parker calls them "some of the finest in the appellation."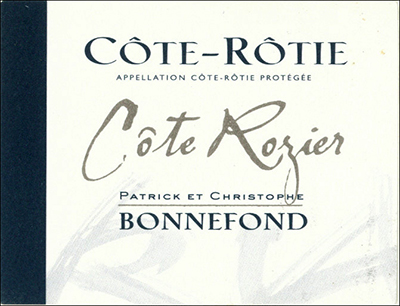 Rare.  Today's offer is for one of their two top cuvées — the Côte Rôtie "Côte Roziers" 2014. Syrah simply doesn't get any better than this. From a plot bordering the famous La Landonne, the Bonnefond brothers produce only 125 cases of their Côte Rozier per year. Think of a flabby, high-alcohol, warm weather shiraz — this is the opposite.
Côte Rôtie famously ages well, and this wine will rewards a decade or more of patience. But as Josh Raynolds of Vinous puts it, the Bonnefonds produce "some of the most extroverted Côte Rôties," and these wines are also enjoyable young. Raynolds awarded the 2014 Roziers 92-94 points, calling it "extremely long," "seamless in texture" and "powerful yet lithe." Jancis Robinson's reviewer called it "perfectly formed."
We found a dark perfumed nose of violets, cloves, and black raspberries. The mouth is inky and long with sturdy tannins but an unmistakable elegance — the texture is dense and very fine. On the palate there's cherry jam, black pepper, and a hint of smoke. With proper care and some patience, this can be every bit as rewarding as a well-aged red Burgundy.
________________________

BONNEFOND Côte Rôtie "Côte Rozier" 2014
Ansonia Retail: $70
3+ bottles price: $59/bot

_
AVAILABLE IN   3-    6-   AND  12-   BOTTLE LOTS
Email Tom to place an order.
or call Tom: (617) 249-3657
_
_
_____________________________
Sign up to receive these posts in your inbox:

_.
_____________________________
Terms of sale. Ansonia Wines MA sells wine to individual consumers who are 21 or more years of age, for personal consumption and not for resale.  All sales are completed and title passes to purchasers in Massachusetts.  Ansonia Wines MA arranges for shipping on behalf of its customers upon request and where applicable laws permit.