Perfect Provenance.  The city of Beaune is the beating heart of Burgundy. Set at the midpoint of the Côte d'Or, this ancient town has been a viticultural hub for thousands of years. Though it's surrounded by vines, the wines of the Beaune appellation have never been as famous as neighbors Pommard and Volnay to the south or Corton to the north.
But with some care there are excellent red Burgundies to be had from Beaune. Last fall we managed to buy a small lot of Beaune 1er cru from 2006, a wine that's now perfectly mature. With eleven years under its belt, aged in perfect conditions in the cellar where it was bottled, this is a red Burgundy with no patience required.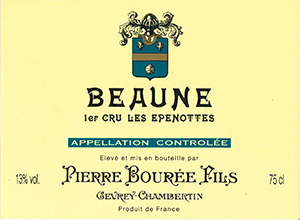 Eleven Years.   Pierre Bourée is a family domaine based in Gevrey-Chambertin. Their style is "old school" using whole clusters, lengthy macerations, and long bottle aging. They keep a remarkable stock of old bottles in their cellar, and we are always excited to browse their list of perfectly aged bottles.
Today we know more than ever about the chemical process of making wine, but there's still no way to simulate time in a bottle. Bourée's 1er cru Beaune 2006 shows the delicious secondary and tertiary notes only found in well-aged wine. It's perfectly aged with impeccable provenance — it left Bourée's cellar only a month ago.
Today the nose shows menthol, dried berries, plum and spice. The mouth is elegant and mid-weight, showing lightly smoked cherries and a cool earthiness. This won't be the fanciest red Burgundy in your cellar, nor the longest lived. But one that needed a bit of time to mature… and already has it. The work's all done. All that's left is to pull the cork.
________________________

BOUREE Beaune 1er cru "Epenottes" 2006
Ansonia Retail: $56
3+ bottle price : $49/bot

_
AVAILABLE IN   3-    6-   AND  12-   BOTTLE LOTS
Email Tom to place an order.
or call Tom: (617) 249-3657
_
_
_____________________________
Sign up to receive these posts in your inbox:

_.
_____________________________
Terms of sale. Ansonia Wines MA sells wine to individual consumers who are 21 or more years of age, for personal consumption and not for resale.  All sales are completed and title passes to purchasers in Massachusetts.  Ansonia Wines MA arranges for shipping on behalf of its customers upon request and where applicable laws permit.