Seasons.  We don't know about you, but the warmer weather this weekend felt pretty nice to us. With green shoots emerging from the soggy ground and baseball back in season, we seem to have turned a corner towards spring. Rosé season is not quite here, but it's not far off either.
Many of our favorite springtime red wines come from the Mas Foulaquier, an organic source in the northern Languedoc. Foulaquier's ethos fits perfectly with a springtime reawakening — with minimal intervention and no chemical treatments, their vineyards are gardens of life. Bees, rabbits, and wildflowers populate their rows of vines, and the wines they produce are similarly alive.
Today's offer is for their pure grenache cuvée "Petit Duc," a wine whose aromas burst from the glass unhindered by filtering or heavy sulfur. It's just the thing to accompany the new season's arrival.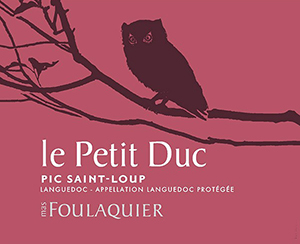 Fresh.  Last month many readers discovered "Violetta," a delicious, fruit-forward blend of grenache, syrah, and carignan that is our newest Foulaquier wine. Today's "Petit Duc" is a smoother, inkier wine from 100% grenache. It's denser and longer in the mouth, and far more complex in the nose. So clean and precise are the cherry fruits that tasted blind it might be mistaken for an organic Pinot Noir.
The 2014 is the best vintage we've tasted of this wine. The nose shows the remarkable complexity of Foulaquier's cuvées, with notes ranging from roasted cherries and cassis to lavender and bayleaf. The mouth is dense and smooth, with wild herbal honey notes joining the distilled wild cherry flavor.
We much enjoyed all the skiing we squeezed in this season, but we admit to some excitement that spring is here at last.
________________________

FOULAQUIER Petit Duc 2014
Ansonia Retail: $34
6+ bottle price : $28/bot

_
AVAILABLE IN   6-   AND  12-   BOTTLE LOTS
Email Tom to place an order.
or call Tom: (617) 249-3657
_
_
_____________________________
Sign up to receive these posts in your inbox:

_.
_____________________________
Terms of sale. Ansonia Wines MA sells wine to individual consumers who are 21 or more years of age, for personal consumption and not for resale.  All sales are completed and title passes to purchasers in Massachusetts.  Ansonia Wines MA arranges for shipping on behalf of its customers upon request and where applicable laws permit.