Extraordinary. We have heard it said that there aren't bad vintages in Burgundy any more. Modern technology and techniques mean that even in difficult years winemakers are able to craft well-made wines. But undoubtedly some years are better than others, and 2015 is one of the best.
Winemakers and wine writers alike have called 2015 one of the best vintages in a generation, on par with 2005 and 1999. Critics cite "consistent quality," and wines "excellent from top to bottom," with "a rare combination of succulent deep fruit, mouthfilling density of texture, and ripe fine-grained tannins."
We're just beginning to get our hands on the 2015s. Our offer of Bourée's Bourgogne two weeks ago sold out in hours (more on the way), and we anticipate similar demand from the rest of the vintage. From our own tastings we can confirm the hype — it's an exceptional vintage, and one where you really can't go wrong.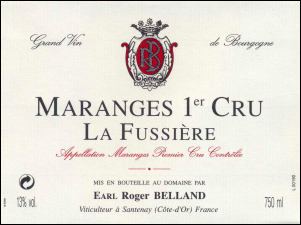 Drink Now. Roger Belland's style is always fruit forward and early drinking. But in 2015, where the fruit was perfectly ripe in every corner of Burgundy, the wines are more delicious still. Today we offer Belland's Maranges 1er cru, a wine from a town known for its straightforward, uncomplicated wines. But as with most bottles from 2015, it's unusually delicious.
We're not sure we've ever had a better red Burgundy under $30. Belland's Maranges is exceptionally drinkable, with a nose showing dark, rich fruit, with deep cherry and cassis flavors mixing with spice and earth. Burghound (Allen Meadows) called it "seductively textured" with "very good depth and length." He notes (and we confirm) that "this should drink well immediately."
We were so impressed with this wine that we immediately wrote the Bellands and asked them to set aside more for us. "Malheuresement" (unhappily) they wrote back, they're all sold out. We've got a healthy amount in the warehouse, but at the rate these have been selling, this may be the only offer for this wine.
BELLAND Maranges 1er cru "Fussière" 2015
Ansonia Retail: $35
6+ bottle price : $29/bot
AVAILABLE IN   6-   AND  12-   BOTTLE LOTS
Email Tom to place an order.
or call Tom: (617) 249-3657
Sign up to receive these posts in your inbox:

Terms of sale. Ansonia Wines MA sells wine to individual consumers who are 21 or more years of age, for personal consumption and not for resale.  All sales are completed and title passes to purchasers in Massachusetts.  Ansonia Wines MA arranges for shipping on behalf of its customers upon request and where applicable laws permit.