After a long and snowy winter, it seems Spring has at last arrived in the northeast. We avoid rigid rules for seasonal drinking — sometimes the moment calls for Chablis in December, or a Châteauenuf in June. But with the arrival of warm, sunny days, we find ourselves reaching for a certain style of wine. So we've collected four of our favorites into a sampler to welcome Spring. Two are whites — crisp, dry wines with pleasant fruit and refreshing mouthfeel. And two are reds — Pinot Noirs from Alsace and Burgundy, showing pleasant cherry fruit and cool mineral balance. All four should fit nicely into those picnics and outdoor meals we've been waiting all winter for.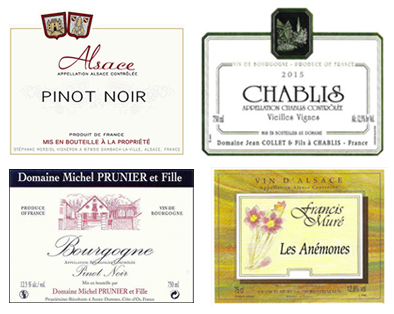 Collet Chablis Vieilles Vignes 2015
Collet's old-vine Chablis is pure, unoaked chardonnay. The mouthfeel is bright and fresh, with notes of lemon zest, salt air, and minerals.
Muré Anémones 2015
This dry Alsatian blend uses Riesling, Pinot Gris, and Muscat to create a beautifully floral wine, with notes of mango, lime, and spring flowers.
Prunier Bourgogne rouge 2014
This classic red Burgundy is pure Pinot Noir, with very little oak and a lively, refreshing mouthfeel. Look for cherries and earth.
Mersiol Pinot Noir 2015
This Alsatian Pinot Noir is more floral and juicy than the Bourgogne rouge, but shows the grape's strawberry and plum side.
SPRINGTIME SAMPLER
3x Collet Chablis Vieilles Vignes 2015: $28
3x Muré Anémones 2015: $20
3x Prunier Bourgogne rouge 2014: $26
3x Mersiol Pinot Noir 2015: $20
Ansonia Retail: $282 offer price: $235/case
free East Coast shipping | save $47
Sign up to receive these posts in your inbox:

Terms of sale. Ansonia Wines MA sells wine to individual consumers who are 21 or more years of age, for personal consumption and not for resale. All sales are completed and title passes to purchasers in Massachusetts. Ansonia Wines MA arranges for shipping on behalf of its customers upon request and where applicable laws permit.