Weather. We spent yesterday morning in Chablis, where winemakers were just finishing a difficult week. After eight consecutive nights fighting damaging frosts, the Chablisiens were sleepy but tentatively optimistic that the worst was behind them.
It has been a tricky few years in Chablis. 2015's challenge was the opposite of 2017 — plentiful sun and dry conditions produced grapes so ripe that some lacked acidity. But while some 2015 whites we've tasted have been flat or overripe, those from the best winemakers remain in balance.
Young winemaker Romain Collet has been at the helm of his family's domaine for five or six years now, and he continues to hone his considerable winemaking talent. The Chablis from Collet seems to get better each year, and indeed the 2015s are some of his best. Most will appear in our July 2017 Futures Issue, but we're advancing one wine in short supply to the May Futures (out next week).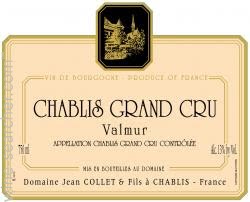 Exceptional.  Grand Cru is the highest rung of Burgundy, reserved for the top 1.3% of wines from the region. Grand Cru white Burgundy readily soars past $100 a bottle, and the best-known can cost several times that. But Chablis remains a source of value in white Burgundy, even at the highest level.
Though wines like this usually need several years to reach their peak, the 2015 Chablis Grand Cru Valmur is delicious already. It's an exceptionally powerful wine. The nose shows gardenia, pear, and baked lemon flavors, with a bright chalky stoniness that enhances the fruit. The mouth is packed with flavor — it's rich and very long, with notes of mango and green tea, but vibrant and lively in texture.
In short, after tasting this wine yesterday, we can't imagine the first half of the summer without it. If there is grilled fish, fruits de mer, sushi, or roast chicken in your future, we can't recommend this enough. This isn't a weeknight bottle, but after all that's what the weekend is for.
________________________

COLLET Chablis Grand Cru "Valmur" 2015
Ansonia Retail: $780/case
Futures Price : $495/case   ($41.25/bot)

_
AVAILABLE BY THE CASE AND HALF CASE
NOTE: This is an advance order, part of our upcoming May Futures Issue — we expect it to arrive in mid-late June.
Email Tom to place an order.
or call Tom: (617) 249-3657
_
_
_____________________________
Sign up to receive these posts in your inbox:

_.
_____________________________
Terms of sale. Ansonia Wines MA sells wine to individual consumers who are 21 or more years of age, for personal consumption and not for resale.  All sales are completed and title passes to purchasers in Massachusetts.  Ansonia Wines MA arranges for shipping on behalf of its customers upon request and where applicable laws permit.