la Chance.  This week in France has been a reminder of the precarious livelihoods of winemakers. Overnight frosts devastated vineyards in several regions in France this week, and the vignerons aren't out of the woods yet. As we drove through the Côte d'Or yesterday, winemakers were readying bales of hay in the vineyards, in preparation for the overnight bonfires to protect against the cold.
Weeks like this one make us appreciate the good years. The 2015 vintage provided both quantity and quality, and nearly every wine drinks better than its label — simple table wines drink like village-level Burgundies, and village wines resemble premier crus.
We've long found St-Aubin to be a source for exceptional value in white Burgundy. Indeed Jancis Robinson recently wrote that though long passed over in favor of its more famous neighbors Chassagne-Montrachet and Puligny Montrachet, St-Aubin "should now be regarded as virtually their equal." This statement particularly rings true in a year like 2015.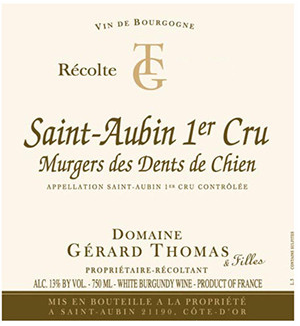 Value.  Though most wines in St-Aubin punch above their weight, we know of few more impressive than the 1er cru St. Aubin from Gérard Thomas. This wine comes from "Murgers des Dents de Chien," a plot of vines high on a ridge from which one can see north and south along the golden slope.
The 2015 "Murgers" is refined and elegant. The fruits are ripe and rich, with mouthfilling intensity and subtle use of oak. The nose shows lemons and toast, with almonds and wild honey in the mouth. Whatever the occasion, when white Burgundy is called for, this is a delicious and affordable example.
The Burgundians are sanguine about the frost — having seen it all before, most winemakers shrug their shoulders, smile, and shake their head. "Qu'est-ce qu'on peut faire?" they ask, "what can you do?" The best thing we can think to do is to celebrate the fruits of one of Mother Nature's friendlier moments.
________________________

THOMAS St-Aubin 1er cru "Murgers" 2015
Ansonia Retail: $40
6+ bottle price : $34/bot

_
AVAILABLE IN    6-   AND  12-   BOTTLE LOTS
Email Tom to place an order.
or call Tom: (617) 249-3657
_
_
_____________________________
Sign up to receive these posts in your inbox:

_.
_____________________________
Terms of sale. Ansonia Wines MA sells wine to individual consumers who are 21 or more years of age, for personal consumption and not for resale.  All sales are completed and title passes to purchasers in Massachusetts.  Ansonia Wines MA arranges for shipping on behalf of its customers upon request and where applicable laws permit.