Vigneron over Terroir.  In Burgundy as in real estate, it's said that location is everything. But while it may be the most important thing to know about a wine, it's not the only thing: sometimes the winemaker can be just as important. We've had disappointing wines from some of the finest Grand Cru vineyards in the world.
But the corollary is also true, and often a highly skilled producer can create brilliant wines from lesser terroirs. A case in point is the Hautes-Côtes de Nuits rouge from Michel Gros. Gros is a world class winemaker who brings his remarkable talent to every vineyard he works, and his Hautes-Côtes wines are every bit as well made as his fanciest Vosne-Romanée.
We served the 2012 at a family party over the weekend, and it was more popular than the Châteauneuf-du-Pape open alongside. Even amid a field of richer wines, varied foods, and no small number of cocktails, the Gros charmed our guests late into the night.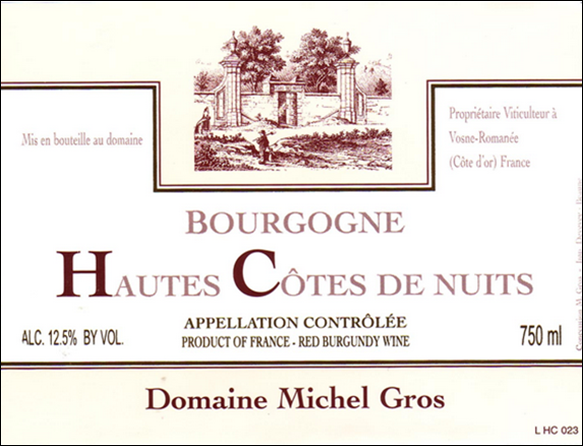 "Among the Best…"  We can't claim to be the only ones to recognize how good this wine is. Critic Allen Meadows (Burghound) was effusive about this 2012 Hautes-Côtes de Nuits rouge, including it in his regional list of the best values of the vintage. Citing a "beautifully well-layered nose of plum, cassis, and violets," Meadows went on to call it "among the best that I have seen from him."
Burghound penned that note two years ago, and we're pleased to report that today it's drinking better than ever. On Saturday the wine showed juicy wild cherry fruit, a pleasant cool earthiness, and a textured, delicious mouthfeel. It's a great Burgundy to have around when you're not feeling the need for Chambolle-Musigny, and it comes in at less than half the price.
________________________

GROS Hautes-Côtes de Nuits rouge 2012
Ansonia Retail: $35
6+ bottle price : $29/bot

_
AVAILABLE IN    6-   AND  12-   BOTTLE LOTS
Email Tom to place an order.
or call Tom: (617) 249-3657
_
_
_____________________________
Sign up to receive these posts in your inbox:

_.
_____________________________
Terms of sale. Ansonia Wines MA sells wine to individual consumers who are 21 or more years of age, for personal consumption and not for resale.  All sales are completed and title passes to purchasers in Massachusetts.  Ansonia Wines MA arranges for shipping on behalf of its customers upon request and where applicable laws permit.