Glam.  Champagne is unlike any other region in France. For a century winemakers have built their product into a worldwide brand associated with celebration, wealth, and opulence. The glitz and glamour of Champagne is in stark contrast to regions like Burgundy, where winemakers often arrive for our tastings with mud on their boots and dirt on their hands.
All of which makes our Grower Champagne producer Pascal Bardoux seem out of place. On Wednesday Bardoux welcomed us into his cozy, dimly lit office, with shelves of old books and a dusty stone fireplace. None of the bottles we tasted had labels, just hand scrawled vintage numbers. But for the bubbles in the glass, it could have been a quaint country farmhouse in Burgundy.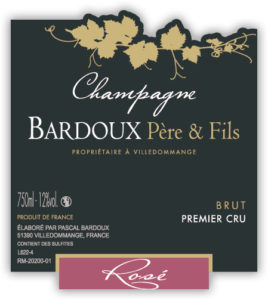 Class.  Though Pascal's personality may be out of place in Champagne, his wines are classic and delicious. They're truly wines first and sparkling second, with as much complexity and elegance as the finest wines of Bordeaux and Burgundy. Pascal is as thoughtful about describing his wines as his about making them, and our visits average more than half an hour per wine.
Today we're offering Bardoux's Champagne Rosé – it's as delicate and delicious as his other wines, with just a hint more fruit. The nose shows strawberries, crème brûlée, and apple pie; the mouth is crisp and dry but full of springy fruit. As you might guess, it's a lovely glass to look at; but its pretty and carefree appearance belies a depth and complexity you'd expect to find in serious wine.
We can't think of a better way to welcome your guests to a spring/summer dinner party this year – it'll set a tone of both refinement and ease.
________________________

BARDOUX Champagne Rosé NV
Ansonia Retail: $54
3+ bottle price : $45/bot

_
AVAILABLE IN    3-    6-   AND  12-   BOTTLE LOTS
Email Tom to place an order.
or call Tom: (617) 249-3657
_
_
_____________________________
Sign up to receive these posts in your inbox:

_.
_____________________________
Terms of sale. Ansonia Wines MA sells wine to individual consumers who are 21 or more years of age, for personal consumption and not for resale.  All sales are completed and title passes to purchasers in Massachusetts.  Ansonia Wines MA arranges for shipping on behalf of its customers upon request and where applicable laws permit.