Drinkable.  Côtes du Rhône is one of the world's most widely recognizable wine brands. There's a wide range of styles out there, and we have favorites in many camps. For rustic and rugged we like the Domaine les Goubert. For refined and serious, we like the Domaine Malmont. But for easygoing, fruit-forward, and effortlessly drinkable, it's hard to beat the Domaine Coulange.
Coulange's Côtes du Rhône is named "Mistral" for the strong northwesterly wind that blows into Provence. The wind is a blessing to winemakers, drying their grapes and keeping their vineyards healthy. We're excited to have this old favorite back in stock after a few months, just in time for summer enjoyment.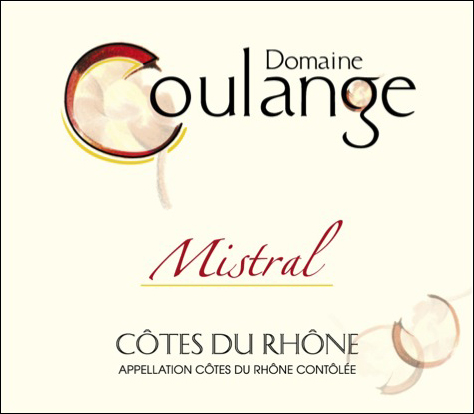 Smooth.  Winemaker Christelle Coulange returned to the family property after oenology school, and began to make and bottle her own wine (previously the family sold in bulk). In only a decade she has made quite a name for herself. She seems to win gold or silver at the Côtes du Rhône tastings every year — the 2015 offered today took the gold at the Gilbert & Gaillard International Concours in 2016.
The 2015 Mistral is delightful, an unoaked blend of 80% grenache and 20% syrah. The nose shows violets, wild cherry jam, and garrigue (provençal underbrush), with woodsy and briary notes as it develops in the glass. The mouth is dense and smooth, with a rich, vibrant mouthfeel, very smooth tannins and a clean finish. It's not serious or complex, but for a weekday evening it's everything you need.
________________________

COULANGE Côtes du Rhône "Mistral" 2015
Ansonia Retail: $18
6+ bottle price: $14.95/bot


_
AVAILABLE IN    6-    AND   12-  BOTTLE LOTS
_
Email Tom to place an order.
or call Tom: (617) 249-3657
_
_
_____________________________
Sign up to receive these posts in your inbox:

_
_____________________________
Terms of sale. Ansonia Wines MA sells wine to individual consumers who are 21 or more years of age, for personal consumption and not for resale.  All sales are completed and title passes to purchasers in Massachusetts.  Ansonia Wines MA arranges for shipping on behalf of its customers upon request and where applicable laws permit.