Dry.  Value is subjective when it comes to wine. A $60 bottle of Burgundy might seem a steal to some, an extravagance to others. But nearly everyone agrees that Muscadet is just about the best bargain going.
Muscadet is a crisp, precise, dry white wine that is the essence of freshness. It's also abundant and inexpensive. Made from the Melon de Bourgogne grape, the best examples are raised "sur lie" (on the lees) to add complexity. In recent years Muscadet has undergone a reinvention of sorts with the elevation of three of the region's best towns to a new "Cru Communal" status.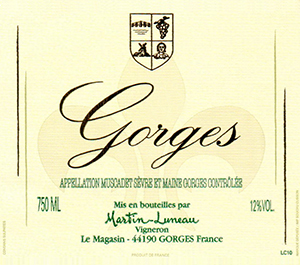 Fresh.  Today's wine comes from one of these three leaders in the new wave of Muscadet. Martin-Luneau is a family domaine farming old vines on the plains south of Nantes. Today we're pleased to release the 2013 Gorges Muscadet de Sèvre et Maine. Combining exceptional terroir with extended years on the lees, this is an unusually complex take on a classic.
The 2013 Gorges is the perfect antidote to summer heat. It's pure and clean, showing melon, dried spring flowers, and lemon zest. The mouth is smooth and very dry, with notes of salt air, stones, and green apple skins. It's refreshing and full of energy.
Oysters are the longstanding pairing of choice with Muscadet, and the thick savoriness in this wine is an exceptional foil for the fresh brininess of an oyster. Moules Marinières is the choice of the winemakers, and as you might expect, the match is magnificent.
________________________

MARTIN-LUNEAU Muscadet "Gorges" 2013
Ansonia Retail: $24
6+ bottle price: $19/bot


_
AVAILABLE IN    6-    AND   12-  BOTTLE LOTS
_
Email Tom to place an order.
or call Tom: (617) 249-3657
_
_
_____________________________
Sign up to receive these posts in your inbox:

_
_____________________________
Terms of sale. Ansonia Wines MA sells wine to individual consumers who are 21 or more years of age, for personal consumption and not for resale.  All sales are completed and title passes to purchasers in Massachusetts.  Ansonia Wines MA arranges for shipping on behalf of its customers upon request and where applicable laws permit.