It's getting harder to find bargains in Burgundy. Demand continues to increase, and the small supply is even smaller after a string of difficult years in the vines. At many domaines, the least available cuvées are at the Bourgogne level.
But we do our best to find and stock Burgundies for everyday drinking. Though the region produces some of the most expensive and ageworthy wines in the world, it's also home to excellent petits vins. We've collected four of our favorite reds, all designed for weeknight enjoyment.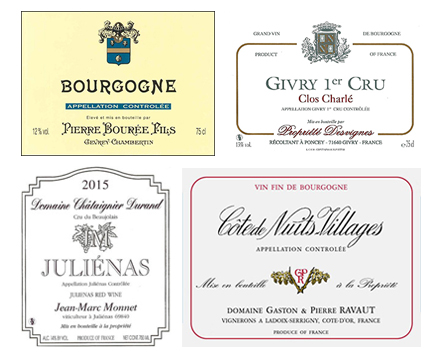 Desvignes Givry 1er cru 2014
Located in the Côte Chalonnaise, just south of the more famous Côte d'Or, Givry produces a more rugged, lively version of Pinot Noir. Desvignes 1er cru Givry is delicious, showing a rich, ripe mouthfeel, excellent energy, and notes of cherries, toast, and earth.
Monnet Juliénas VV 2015
Though we'll admit this Burgundy isn't Pinot Noir (it's Gamay), we include it here because it's richer and finer than many Bourgogne-level pinots we've had. The wine is inky dark and smooth with cool, refreshing fruit, and notes of cranberries, graphite, and underbrush.
Ravaut Côte de Nuits Villages 2014
This wine is made from several plots in the Côte de Nuits, and shows the cool berry fruit for which the northern half of the Côte d'Or is known. The nose shows cassis jam, and the mouth has cool, crackling tannins; Jancis Robinson found it "succulent with a lovely, fresh, juicy finish."
Bouree Bourgogne 2015
This Bourgogne comes from Pierre Bourée, an old school producer in Gevrey-Chambertin. The wine is dark and brooding in the nose, with raspberries and stewed cherries. In the mouth it's perfectly ripe, with juicy tannins, great length, and a clean, delicious finish.
________________________

_
EVERYDAY RED BURGUNDIES
3x   Desvignes Givry 1er 2014:   $30
3x   Monnet Juliénas Vieilles Vignes 2015:   $20
3x   Ravaut Côte de Nuits-Villages 2014:   $36
3x   Bourée Bourgogne 2015:   $30
Ansonia Retail: $348
offer price: $285/case

free East Coast shipping    |    save $63
_ 
_
–
– _
_____________________________
Sign up to receive these posts in your inbox:

_.
_____________________________
Terms of sale. Ansonia Wines MA sells wine to individual consumers who are 21 or more years of age, for personal consumption and not for resale.  All sales are completed and title passes to purchasers in Massachusetts.  Ansonia Wines MA arranges for shipping on behalf of its customers upon request and where applicable laws permit.