Crisp.  Francis Muré lives in a charming Alsatian hill town. His farmhouse nestles on vine-covered slopes near stone streets lined with colorful flower boxes. It's idyllic, quaint, and picturesque, like something from a fairy tale.
Muré's wines are a perfect representation of their pastoral origin. Today we're suggesting his rosé, an uncomplicated, refreshing, delightful glass of wine — perfect for the summer heat arriving this week. We can't all live in such a beautiful place as the Alsace, but a glass of this rosé will transport you there, at least for a moment.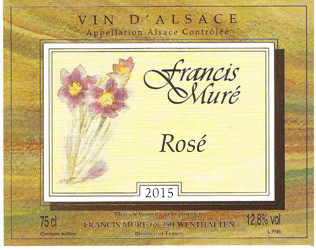 Summertime.  Muré splits the fruit from his Pinot Noir harvest into two wines: the bright, summer-weight red Pinot Noir, and this rosé. Where the notes in the red are mostly wild cherries, the rosé is more floral, and the fruit is closer to strawberry.
Our requirements for rosé are low alcohol, good acidity, and an affordable price. Muré's Rosé clocks in at 12.5%, and has a lovely, elegant balance. The cool, ripe fruits round out beautifully in the mouth, but the gentle acidity keeps it lively and fresh. The nose shows fresh herbs, wild strawberries, and dandelions. The mouth is cool and crisp, showing strawberry preserves and bright spring flowers.
For the heat arriving this week, Mure's Rosé is as useful as an umbrella in April. Take a glass outside to your back yard, patio, or roof deck — you might even get some gardening done.
________________________

MURÉ Rosé 2015
Ansonia Retail: $20
6+ bottle price: $16/bot


_
AVAILABLE IN    6-    AND   12-  BOTTLE LOTS
_
Email Tom to place an order.
or call Tom: (617) 249-3657
_
_
_____________________________
Sign up to receive these posts in your inbox:

_
_____________________________
Terms of sale. Ansonia Wines MA sells wine to individual consumers who are 21 or more years of age, for personal consumption and not for resale.  All sales are completed and title passes to purchasers in Massachusetts.  Ansonia Wines MA arranges for shipping on behalf of its customers upon request and where applicable laws permit.