Balance. At a glance, Côte Rôtie might seem the last place in the world to grow vines. The steep slopes reach 60 degrees in places, and so all field work — planting, pruning, treating, harvesting — must be done entirely by hand. And yet the citizens of this land have tended vines here since Roman times. What makes them continue to work this land?
Pour yourself a glass of Côte Rôtie and your questions will evaporate. Syrah from Côte Rôtie is unlike any other, at once dense and balanced, inky and crisp, mouthfilling and fresh. Christophe Bonnefond and his brother Patrick produce small batch wines of pure, concentrated syrah. Josh Raynolds calls their style "extroverted," "friendly," and "refined."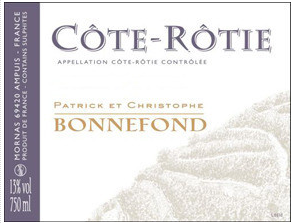 Ink-like.  The Bonnefonds produce exceptional red wines, with notes of dark fruits and spice. They are rich without being heavy – only 13% alcohol – and there's an attractive liveliness often lacking in Syrah from the Southern Hemisphere. Bonnefond wines will age with no trouble for ten or more years. Their 2014s are delightful — last month we restocked their extraordinary luxury cuvée "Côte Rozier," today we're releasing their more readily approachable "Colline de Couzou."
The nose on the 2014 is perfumed but serious, with toasted dark red fruits, spices like clove and lavender, and notes of dried violets. In the mouth the tannins are punchy, with fruit notes of cherry and blackberry jam, alongside black pepper and licorice. Josh Raynolds of Vinous awarded 92 points, finding "sappy black and blue fruit flavors and a jolt of peppery spices."
We wouldn't be the first to volunteer to work the vertiginous "fields" of Bonnefond's vineyards, but we're certainly glad someone does.
________________________

BONNEFOND Côte Rôtie 2014
Ansonia Retail: $54
3+ bottle price: $45/bot


_
AVAILABLE IN   3-     6-    AND   12-  BOTTLE LOTS
_
Email Tom to place an order.
or call Tom: (617) 249-3657
_
_
_____________________________
Sign up to receive these posts in your inbox:

_
_____________________________
Terms of sale. Ansonia Wines MA sells wine to individual consumers who are 21 or more years of age, for personal consumption and not for resale.  All sales are completed and title passes to purchasers in Massachusetts.  Ansonia Wines MA arranges for shipping on behalf of its customers upon request and where applicable laws permit.