"Natural wine" is a popular buzzword these days, one with varied definitions and no lack of controversy. Whatever you take it to mean — biodynamic, no sulfites, organic, unfiltered — the goal is the same: to create wine with little intervention between grape and glass.
At their best, natural wines show vivacity and energy often lacking in conventional styles. These wines leap from the glass, full of exuberance and life, trading polish for gusto, neatness for verve. Here's a mixed case — two whites and two reds — from four winemakers working in some interpretation of a natural style.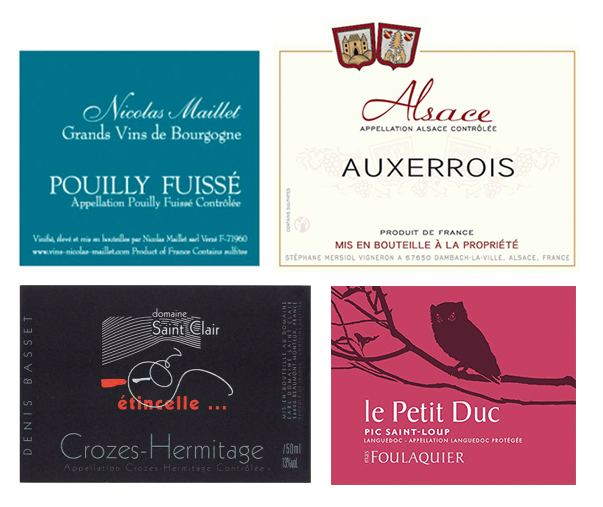 SAINT CLAIR Crozes-Hermitage 2015
This lively pure Syrah wine is the creation of Denis Basset, a passionate young winemaker in the Northern Rhône Valley. Look for notes of black pepper, cloves, blackberries, and violets.
FOULAQUIER Petit Duc 2014
Petit Duc is Foulaquier's pure Grenache, grown and produced biodynamically in the Languedoc. Look for notes of wild cherries, rose petals, and garrigue with a silky, very fine mouthfeel.
MERSIOL Auxerrois 2014
Grown in a charming hill town in Alsace, the Mersiol brothers farm their Auxerrois (a variation on Pinot Blanc) organically. Look for a soft, smooth mouthfeel with notes of spring flowers and lime.
MAILLET Pouilly-Fuissé 2014
This pure chardonnay shows the, rich, opulent side of the grape. Nicolas Maillet credits organic viticulture with this wine's cool freshness, balancing notes of golden honey and straw.
________________________

_
NATURAL WINE SAMPLER
3x   Saint Clair Crozes-Hermitage 2015:   $26
3x   Foulaquier Petit Duc 2014:   $34
3x   Mersiol Auxerrois 2015:   $18
3x   Maillet Pouilly-Fuissé 2014:   $40
Ansonia Retail: $360
offer price: $295/case

free East Coast shipping    |    save $65
_ 
_
–
– _
_____________________________
Sign up to receive these posts in your inbox:

_.
_____________________________
Terms of sale. Ansonia Wines MA sells wine to individual consumers who are 21 or more years of age, for personal consumption and not for resale.  All sales are completed and title passes to purchasers in Massachusetts.  Ansonia Wines MA arranges for shipping on behalf of its customers upon request and where applicable laws permit.