Terroir.  People sometimes ask why we're so drawn to Burgundy. Partly it's nostalgia — we lived here for a year two decades ago, and have a fondness for the place and its people. But our goal at Ansonia is to find wines that reflect their origin, and no region does this better than Burgundy.
Burgundian winemakers use only two grapes — one white and one red — to find expressions of a singular plot of land. And because a wine is only as good as the earth from which it's made, the finest Burgundies in any cellar are often from the hallowed town of Vosne-Romanée.
Centuries ago, a monk wrote that "there are no ordinary wines in Vosne;" this continues to be true. There's a unique floral character to the best wines from Vosne, a blend of silky finesse with pure intensity. It is the pinnacle of Pinot elegance.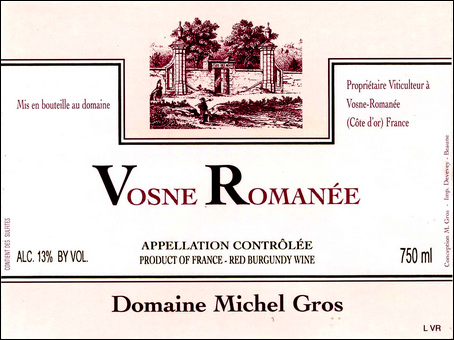 History.  Our winemaker in Vosne-Romanée is Michel Gros, a vigneron who has lived his entire life in the town. Michel's family has made wine there for nearly 200 years, and for a long time his mother was the mayor. Today Michel's domaine is world famous as a top source for red Burgundy, and the wines from Vosne are at the heart of his lineup.
We had lunch with Michel Gros and his family yesterday, and while in person he's modest and shy, his wines are not. They are among the most consistently excellent red Burgundies in our cellar, year in and year out, and his 2014s represent another year of excellence.
The 2014 Vosne-Romanée is beautifully expressive in the nose, with violets and dried roses, redcurrants and a bit of spice. The mouth is young and lively, with silky ripe tannins in perfect balance with the dark pinot noir fruit. Drink one of these next weekend (decant up to an hour), one in a year, and one in five years — you'll enjoy them all, but by the third we're pretty sure you'll wish you had more.
________________________

MICHEL GROS Vosne-Romanée 2014
Ansonia Retail: $74
3+ bottle price : $65/bot

_
AVAILABLE IN    3-    6-   AND  12-   BOTTLE LOTS
Email Tom to place an order.
or call Tom: (617) 249-3657
_
_
_____________________________
Sign up to receive these posts in your inbox:

_.
_____________________________
Terms of sale. Ansonia Wines MA sells wine to individual consumers who are 21 or more years of age, for personal consumption and not for resale.  All sales are completed and title passes to purchasers in Massachusetts.  Ansonia Wines MA arranges for shipping on behalf of its customers upon request and where applicable laws permit.