Fame and Value.  Châteauneuf-du-Pape dominates the south of France. No other town is more famous or produces more widely respected wines. But the relative anonymity of the surrounding towns belies the high quality of wine they produce. And while Châteauneuf-du-Pape will always be a more recognizable purchase, Gigondas often provides more bang for your buck.
A case in point is the Domaine les Goubert's "Cuvée Florence." Though it's grown in Gigondas, in depth, complexity, and ageworthiness it more closely resembles a fine Châteauneuf-du-Pape. Made from only their best parcels of Grenache and Syrah, Cuvée Florence is noticeably better than many wines from its more famous neighbor.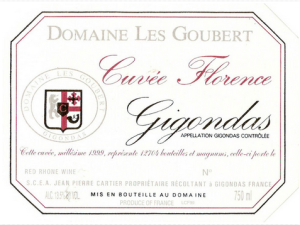 Raspberry and Thyme.  We've been buying the Cuvée Florence for decades, and the quality continues to improve. The family's thirty-something daughter Florence, whose birth inspired the creation of the cuvée back in the 1980s, is now the principal winemaker. The already excellent wines have become more refined since Florence took over, from their simple Côtes du Rhône, to today's luxury cuvée.
Josh Raynolds of Vinous awarded the 2011 Florence 91-92 points, finding "supple fine-grained tannins" and "very good length." Since we last wrote about this wine the oak has melted beautifully into the body, becoming more harmonious and smooth. The nose shows stewed raspberry jam, thyme, and a hint of lavender. The mouth is intensely concentrated, with a chewy blend of plum, blueberry jam, and pan drippings.
This is rich, dark wine that will fit perfectly alongside a fine cut of beef or rack of lamb. If it's the name on the label you're after, we have excellent Châteauneuf-du-Pape that will satisfy both palate and recognition. But if it's value you seek, consider putting your money on the Cuvée Florence.
________________________

GOUBERT Gigondas "Florence" 2011
Ansonia Retail: $50
3+ bottle price: $42/bot


_
AVAILABLE IN    3-    6-    AND   12-  BOTTLE LOTS
_
Email Tom to place an order.
or call Tom: (617) 249-3657
_
_
_____________________________
Sign up to receive these posts in your inbox:

_
_____________________________
Terms of sale. Ansonia Wines MA sells wine to individual consumers who are 21 or more years of age, for personal consumption and not for resale.  All sales are completed and title passes to purchasers in Massachusetts.  Ansonia Wines MA arranges for shipping on behalf of its customers upon request and where applicable laws permit.