Été arrivé.  We try not to be too beholden to seasonal drinking patterns. With certain dishes, red works best in the summer and white in the winter. But it's hard to deny the appeal of a summertime rosé. Our criteria for rosé are threefold: dry, inexpensive, and refreshing.
The provencal-style rosé from the Domaine les Goubert hits all three of those perfectly. Grown across the sun-drenched plain just east of Châteauneuf-du-Pape, Goubert's rosé is dry and delicious. If there's a beach or a roof deck or a backyard patio in your future this summer, this is almost as necessary as sunscreen.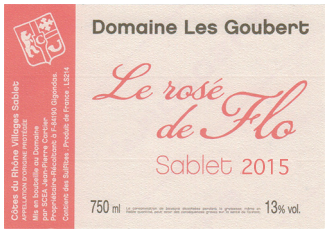 Soleil.  Rosé de Flo is the project of the Cartier family's thirtysomething daughter Florence, who is now handling much of the winemaking at Goubert. Florence decided not to make any Rosé in 2016 — the crop quality was too high, so it all went to red — but we managed to snap up the last of the 2015, which continues to be excellent.
The 2015 is a blend of grenache, mourvèdre, and a local grape called brun argenté. In the glass it's a pale salmon color, with notes of wild strawberry jam and faint lavender; in the mouth look for fresh cut hay and lime rind. Bone dry, with 13% alcohol and a delicate acidity, this wine is dangerously easy to sip. Open one with a salad or tapenade and you'll be transported to Provence.
________________________

GOUBERT Sablet Rosé 2015
Ansonia Retail: $20
6+ bottle price: $16/bot


_
AVAILABLE IN    6-    AND   12-  BOTTLE LOTS
_
Email Tom to place an order.
or call Tom: (617) 249-3657
_
_
_____________________________
Sign up to receive these posts in your inbox:

_
_____________________________
Terms of sale. Ansonia Wines MA sells wine to individual consumers who are 21 or more years of age, for personal consumption and not for resale.  All sales are completed and title passes to purchasers in Massachusetts.  Ansonia Wines MA arranges for shipping on behalf of its customers upon request and where applicable laws permit.