Thatch and tweed. If Vosne-Romanée is the paragon of Burgundian sophistication, then neighbor Nuits-St-Georges has the humbler charm of a country gentleman. Spread across five miles of varied terroir, the wines of Nuits-St-Georges range from spiced and elegant to meaty and rich. Wines from plots near the Vosne border can borrow a bit of spice and silk from their neighbor.
Today's wine is from Michel Gros, a master winemaker from nearby Vosne-Romanée. Gros makes two Nuits-St-Georges cuvées — a richer one from the south of town, and a more refined one from near the Vosne border. Today's cuvée is from the Vosne side, and combines some of the elements of both towns in a single wine.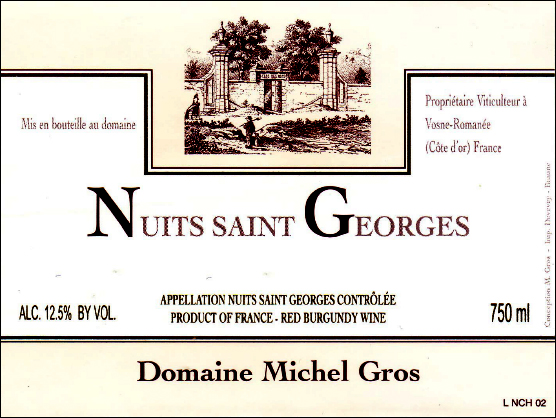 Exquisite.  Pinot Noir from Burgundy may not be known for boldness, but this is not a wine that's easy to forget. In 2012, very low yields made for wines of unusual depth and concentration. This wine has Gros's signature style, with an enticing, silky bouquet of redcurrants and licorice. In the mouth it's meaty and dense, showing cassis, toast, plum, and just a hint of spice.
Jancis Robinson listed Gros as one of five "overperforming" red Burgundy producers in 2012. Burghound (Allen Meadows) called the 2012 Nuits "appealingly fresh," and "very round," finding "excellent richness" and awarding 87-90 points. With four years in the bottle, this has begun to drink extraordinarily well (though it will improve over another 3-4 years in the cellar, if you can keep your hands off it).
Today, after just 20 minutes in a carafe or decanter, this wine will transport you to the Burgundy of centuries ago — think woven tapestries, roasted meats, and ancient stone chateaux. Speaking of roasted meats, this bottle matches perfectly with a steak. We opened a bottle a week ago with sirloin tips from the grill, and the match was magnificent.
________________________

GROS Nuits-St-Georges 2012
Ansonia Retail: $75
3+ bottle price: $62/bot


_
AVAILABLE IN    3-    6-    AND   12-  BOTTLE LOTS
_
Email Tom to place an order.
or call Tom: (617) 249-3657
_
_
_____________________________
Sign up to receive these posts in your inbox:

_
_____________________________
Terms of sale. Ansonia Wines MA sells wine to individual consumers who are 21 or more years of age, for personal consumption and not for resale.  All sales are completed and title passes to purchasers in Massachusetts.  Ansonia Wines MA arranges for shipping on behalf of its customers upon request and where applicable laws permit.