Scale.  Bordeaux is much larger than Burgundy. The region covers nearly ten times as much land, and the wineries themselves are usually far larger. For example Burgundy's most famous vineyard, Romanée Conti, produces about 450 cases per year; Châteaux Margaux and Haut Brion are closer to 12,000 each.
But over the years we've been pleased to find some Burgundy-scale winemakers working in Bordeaux. One favorite is the Château Léhoul, a source in Graves run by the Fonta family since the 1700s. This small but excellent producer is truly a family affair — a few years ago when the winemaker had to be at his kids' soccer game, it was his eighty-something mother who conducted our tasting.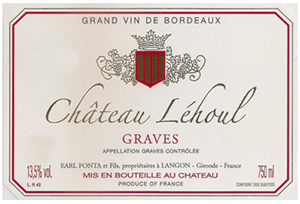 Wednesday Wine.  Léhoul's wines are straightforward and delicious red Bordeaux. They're don't cost a fortune, and they're not meant to age for half a century. But for a weeknight steak or lamb, or even burgers from the grill, they're a great match. Today we're releasing Léhoul's 2014 red Graves, a beautifully balanced red Bordeaux at an unusually low price.
Unlike many other simpler Bordeaux, Léhoul red is neither over-oaked nor high in alcohol. The nose shows dark plum fruits, with a hint of licorice and a lovely cool earthiness. At 13.5% alcohol the mouth is perfectly balanced, with dark rich fruit but a pleasant tannic structure that makes the wine perfect for food. Open an hour or so before serving and serve just a touch below room temperature — just don't tell your guests how much you paid.
________________________

LEHOUL Graves rouge 2014
Ansonia Retail: $28
6+ bottle price: $24/bot


_
AVAILABLE IN   6-    AND   12-  BOTTLE LOTS
_
Email Tom to place an order.
or call Tom: (617) 249-3657
_
_
_____________________________
Sign up to receive these posts in your inbox:

_
_____________________________
Terms of sale. Ansonia Wines MA sells wine to individual consumers who are 21 or more years of age, for personal consumption and not for resale.  All sales are completed and title passes to purchasers in Massachusetts.  Ansonia Wines MA arranges for shipping on behalf of its customers upon request and where applicable laws permit.