Tiny.  We'd bet that many readers have garages bigger than the Domaine Malmont's winemaking space. We work with some small-production winemakers, but even by our standards Malmont's winery is tiny. The small space attached to winemaker Nicolas Haeni's house in Séguret looks more like a large tool shed than a winemaking operation.
But in this tiny place Nicolas crafts some of the most exciting wines in our portfolio. His reds from Côte du Rhône and Séguret are simply delicious and get better each year. His white Séguret is delightful, though his tiny production isn't large enough to sell us any.
This year, at last, we managed to secure an allocation of his excellent rosé — just 25 cases, and much of it was snapped up in our March Futures. We're releasing the rest of it today, and we don't expect it to be around for a second offer.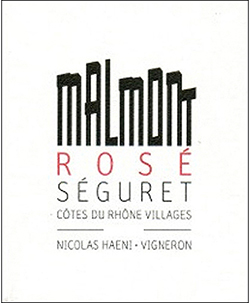 Fresh.  Nicolas's vines are high in the hills to the east of Séguret, a series of terraced vineyards that he farms with minimal intervention. His winemaking is similarly restrained, where he uses only ambient wild yeasts, and allows the fermentation to proceed at its own pace. The result is wines with clarity, precision, and wonderful complexity.
Malmont's 2016 Rosé is a 65/35 blend of Grenache and Syrah. The nose shows light strawberries with a hint of honey. The mouth is beautifully balanced, with good freshness and pleasant notes of lemon zest, wild cherries, and lavender. It's effortlessly drinkable — a refreshing glass that will transport you to Provence with one sip.
Given today's heat, the price, and the limited production, we advise prompt action if this one's of interest: