Neighbors.  The hillside of Montrachet produces the world's finest dry white wine. In production for nearly two thousand years, the vineyard straddles the border between the towns of Puligny and Chassagne. Each produces wine of a different character, and though their terroirs meet in the famous plot, there are genuine differences in the extraordinary wines from both villages.
Puligny tends to be a bit more buttoned up — more austere in its youth, with acidity and minerality that help it cellar well. Chassagne is usually a bit friendlier, with a fleshier mouthfeel and more floral character. Both can be exceptional, but Chassagne usually matures before Puligny. Today's cuvée is a premier cru from Chassagne's southern border, and one you don't need to wait for to enjoy.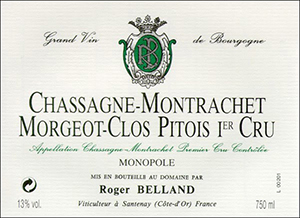 Vintage.  Roger Belland knows the terroir of Chassagne intimately. He's the fifth generation winemaker in his family, and he makes wine on both sides of the Montrachet border. Today we offer his Chassagne-Montrachet 1er cru Monopole "Clos Pitois" 2014, a classic, golden, mouthfilling white Burgundy. The Belland family owns the entire vineyard — unusual in Burgundy, where most vineyards are split among several owners.
This wine is everything Chassagne-Montrachet is supposed to be. The nose is explosive and opulent, with coconut, flowers, butter, and honeysuckle — your nose will pick them up while the glass is still several inches away. On the palate it is long, rich, and vibrant, with notes of sweet lemons, hazelnut, and toast.
There's nothing quite like the Grand Cru Montrachet, but if you can find one, a bottle requires substantial investment. If you've ever wondered what has drawn people to this terroir for centuries, here's a slightly more reasonable way to find out.
________________________

Belland Chassagne-Montrachet
1er cru "Clos Pitois" 2014
Ansonia Retail: $78
3+ bottle : $69/bot



FREE EAST COAST SHIPPING