Hidden.  Visiting Pierre Bourée is always a treat. The Bourée family domaine in Gevrey-Chambertin is home to a warren of underground cellars, holding stocks dating well back into the 1980s. It can be hard for wine buyers to track the provenance and history of bottles from a decade ago, but at Bourée it's simple — they've never left home.
Until now, that is. Today's offer is for one of our recent finds from Bourées extensive back catalog: a premier cru Gevrey-Chambertin from 2006. The 2006 vintage was a success across Burgundy, producing solid wines with medium-term aging potential. Combine that with a decade of impeccable cellaring, and the result is gorgeous, perfectly mature red Burgundy.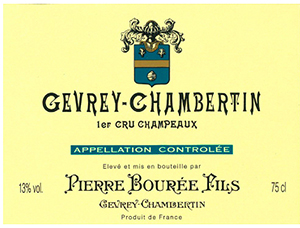 Masculine.  The Champeaux vineyard sits high on the hill overlooking the town of Gevrey-Chambertin. With good drainage and excellent sun exposure, this slope, known as the Combe de Lavaut, is generally thought to have the best premier crus in town. Gevrey-Chambertin makes many of the richest, meatiest red wines in Burgundy, and with some patience and a good cellar, they can be transcendent.
Bourée's 2006 Gevrey-Chambertin 1er cru "Champeaux" is a delight. The nose is beefy and masculine, with hints of barbecue and umami alongside the briary baked red fruits. The mouth is long and velvety — more well-dressed gentleman than exuberant twentysomething — with notes of toast, earth, cassis, and blackberry pie.
This is drink-now red Burgundy with a decade under its belt. At the price it's probably not a Tuesday evening wine, but anyone with a passing interest in well-aged red Burgundy should take note.
____________________________
Bourée Gevrey-Chambertin 1er "Champeaux" 2006
Ansonia Retail: $102
2+ bottle price : $88/bot


FREE EAST COAST SHIPPING ON ANY 12 BOTTLES