Discovery.  Sauvignon Blanc has seen a recent surge in popularity. It's hard to find a wine list these days without examples from New Zealand, California and Washington. But the original source for Sauvignon Blanc is France's Loire Valley, where the grape (known there simply as "Sauvignon") has been grown since the 1700s.
The twin villages of Sancerre and Pouilly-Fumé are the home towns of Sauvignon. Here the grape takes on a distinctly mineral and citrus character. As the name suggests, the wines of Pouilly-Fumé also feature notes of smoke and gunflint, a result of the soils' high flint content.
Our producer here is Frederic Michot, a small scale family vigneron with no other US importer and excellent wines. His two 2016 cuvées have just arrived in our warehouse, and both are just as good as the 2015s we sold out of so quickly last year.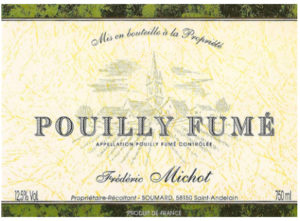 Dry and fresh. Michot's 2016 Pouilly-Fumé is crisp and delicious — the nose is bright and expressive, with ripe grapefruit, honey, and lime. The mouth is full and very lively. There's no oak at all, and the palate sings with zippy fruit and minerals. The palate is midweight and very clean, with a dry, slightly smoky finish.
This is pure, unoaked, refreshing Sauvignon Blanc — perfect as an aperitif or next to a plate of fish. This should be a welcome opener for house guests through the end of the summer and into fall. Our favorite combination is goat cheese, another famous product of the Loire Valley. Everything from Crottin de Chavignol to Valençay to a simple fresh chèvre will fit beautifully with this lively Pouilly-Fumé.
________________________
Michot Pouilly-Fumé 2016
Ansonia Retail: $24
6+ bottle price : $19/bot


FREE EAST COAST SHIPPING ON ANY 12 BOTTLES