Ancient.  The monks of the Burgundy countryside play a crucial role in the story of French winemaking. For about a thousand years between the 5th and 15th centuries, French monks tended vines and made wine on the now famous slopes. Through tasting the products of the rich Burgundian soils (and often the soils themselves), they first developed the idea of terroir.
In the south of Burgundy, winemaking culture centered around the Abbaye de Cluny, a wealthy monastery near Macon. Much of Cluny's wealth and fame came from the delicious product of the local vineyards. And it is from these vineyards, now in production for over 1100 years, that today's wine comes.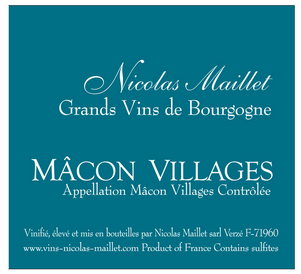 France profonde.  Nicolas Maillet is a passionate young winemaker working in the heart of the Maconnais. His wines are as pure an expression of the Chardonnay grape as we know, with no oak to obscure the gorgeous fruit. They have the clarity of fine Chablis with the weight and roundness of a Côte d'or Chardonnay. Grown a few miles from the famous Cluny Abbey, this is as traditional as white Burgundy gets.
The nose of the 2015 Maillet Macon Villages is expressive and beautiful. Look for spring flowers and honeysuckle, with faint notes of dried straw. In the mouth it's a classic Macon — rich and full with bright floral notes, beautiful acidity, and lots of depth. For white Burgundy fans, this is a remarkable value — far more complexity than the price tag suggests.
Pair this with mussels or roast chicken, or a quiet summer's afternoon.
________________________
Maillet Macon-Villages 2015
Ansonia Retail: $26
6+ bottle price : $22/bot


FREE EAST COAST SHIPPING ON ANY 12 BOTTLES