Harmony.  Over thousands of years the monks and farmers of France experimented with different grapes to find the varietals that best fit their land. The grape-place pairings were settled centuries ago, and now the happy marriages — Syrah in the Northern Rhône, Pinot Noir and Chardonnay in Burgundy, Sauvignon Blanc in Sancerre — produce many of the world's finest expressions of each varietal.
And so it is with Merlot and Bordeaux. Sideways notwithstanding, Merlot has always played a starring role in the finest wines of Bordeaux, particularly on the Right Bank's famous towns of Pomerol and St-Emilion. The combination of limestone and clay soils, excellent drainage, and early ripening makes Merlot unique and delicious there.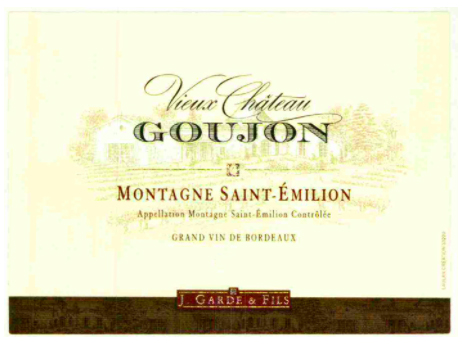 Friendly.  Today we're excited to introduce a new all-Merlot wine from Bordeaux's Right Bank. The appellation is Montagne-St-Emilion, a more humble neighbor of St-Emilion (think JV vs. Varsity). At their best the wines are classic, plummy expressions of the terroir, without quite the same complexity or aging potential. In short, they're uncomplicated, friendly, drink-now red Bordeaux.
The 2014 Montange-St-Emilion from Vieux Château Goujon is dark and rich — tannins are ripe and very full, with no bitterness and a juicy mouthfilling texture. The nose shows cherry jam, cedar, and a hint of black pepper. This is expertly balanced — at only 13% alcohol, there's a nice equilibrium between the soft Merlot fruit and the ripe juicy tannins.
This isn't a Bordeaux to cellar for decades — it's a delicious, easily pairable, affordable red Bordeaux to enjoy today.
________________________
Vieux Goujon Montagne-St-Emilion 2014
Ansonia Retail: $30
6+ bottle price : $25/bot


FREE EAST COAST SHIPPING ON ANY 12 BOTTLES