Muggy.  In midst of the summer heat, we like to open wines that don't require much thought. Not wines that are boring or one dimensional, just uncomplicated and highly drinkable. Which is why we're so excited about our brand new Sancerre.
Wine writer Lettie Teague once described Sancerre as a wine about "pleasure and not profundity," and in the heat and humidity of July/August, that's exactly what we need. We discovered the Domaine de Sarry this spring, and their pure, delicious new Sancerre fits the summer white bill perfectly.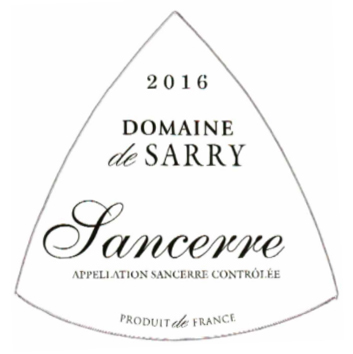 Brisk.  The Domaine de Sarry is a century old source a few kilometers outside the town of Sancerre. Like our favorites from the region, Sarry's 2016 Sancerre is bright, juicy, and bursting with unoaked fruit. The nose shows intense, ripe grapefruit, with honeysuckle and faint notes of flint. The mouth is brisk, round, and very refreshing, with notes of lime zest, grapefruit peel, and minerals.
This wine would fit better alongside a bowl of mussels in a bistro than on a 3-star Michel white tablecloth. With no oak to interrupt the pure, exuberant Sauvignon Blanc fruit, this is a crisp antidote to a muggy July afternoon. Pour yourself a glass after work, and that summer heat won't seem quite as exhausting.
__________________________________
Sarry Sancerre 2016
Ansonia Retail: $30
offer price : $25/bot


FREE EAST COAST SHIPPING ON ANY 12 BOTTLES