The 2015 red Burgundies have been great successes. Warm weather, small berries, and low yields made a vintage that many critics have called one of the best in decades. Most of the fancier 2015s are dense and tannic today, signaling excellent aging potential, but needing time to reach maturity.
But not all will require cellaring. Many of the simpler wines from the vintage have already started to drink beautifully. Their ripe fruit and juicy profiles make them delicious today. We've collected four of our favorites from this exceptional vintage, all ready to open now.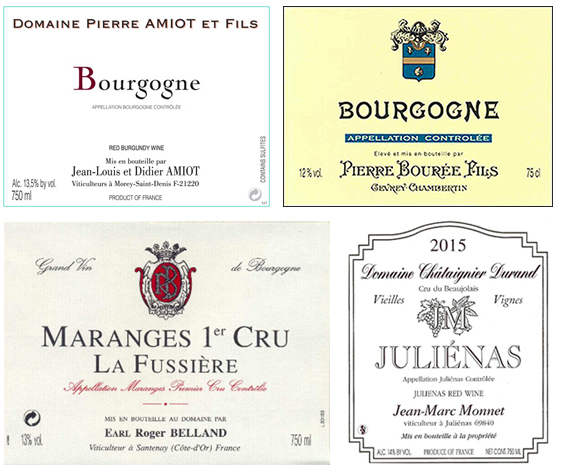 Amiot Bourgogne 2015
We only ever get a small allocation of this wine, but it's always one of our favorite Bourgognes — the 2015 is lively and charming with wild cherry fruit and notes of violets.
Bourée Bourgogne 2015
Bourée's Bourgogne is dark and delicious, showing the woodsy, smoky side of Pinot Noir. The tannins are punchy and approachable, with bursting fruit and refreshing texture.
Monnet Juliénas VV 2015
Monnet's old-vine Juliénas is richer and more complete than many pinots from the rest of Burgundy. Look for stewed cranberries, graphite, and notes of roses in the nose.
Belland Maranges 1er cru 2015
This premier cru red Burgundy is already drinking well. It combines a town known for its rustic character with a winemaker who makes smooth, early drinking reds.
____________________________
Mixed Case: 2015 Red Burgundies
Ansonia Retail: $384
offer price : $295/bot
SOLD OUT


FREE EAST COAST SHIPPING