Charming.  Perched on a charming Tuscan hillside, the Fattoria Poggerino is certainly one of the most attractive domaines in our portfolio. (If you're ever in the area, we highly recommend a visit.) As it turns out, the wine is just as beautiful as the source — Poggerino often appears in the international wine press as a source for classic, affordable Chianti. Their careful organic viticulture results in wines of unusual purity, and they seem to get better each year.
Poggerino's finest wine is their Chianti Classico Riserva called "Bugialla." Like Poggerino's other wines, this is pure, unblended Sangiovese. But the Riserva comes from their oldest vines — nearly 45 years old now — and is raised carefully in oak before bottling. Poggerino holds it a full year in the bottle before releasing it to the public.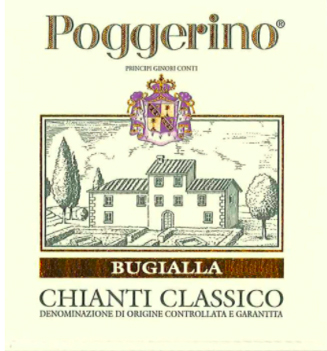 Sophisticated.  With time in the bottle, Poggerino's Riserva is remarkably elegant Chianti — as complex and subtle as many Burgundies we know. The density from the old vines and the time in oak means this is often hard to approach in its youth. But the 2013 is just beginning to show its stripes, and after an hour in a decanter (or another 3-4 years), you'll wish you had more around.
The Riserva's nose is dark in complexion and tenor, but also contains silky high notes of roses and minerals. We found lovely blackberry jam, cherries, and graphite in the nose, but it's in the the mouth that this really comes alive. Look for a dynamic mouthfeel, with juicy notes of currants, licorice, and blueberries.
Tasting over a year ago, Jancis Robinson's reviewer found "spectacular, gripping, juicy fruit on the palate," and noted "great length and poise." We can only imagine how effusive he'd be today.
____________________________
Poggerino Chianti Classico Riserva 2013
Ansonia Retail: $24
6+ bottle price : $19/bot
SOLD OUT


FREE EAST COAST SHIPPING ON ANY 12 BOTTLES