Muscle.  Gevrey-Chambertin is the largest appellation in Burgundy's Côte d'Or. Because of its clay rich soils, its wines are similarly grand. Known for power and longevity, Gevrey-Chambertin shows dark, intense fruit and a sturdy tannic structure.
Gérard Quivy's vines in the tiny two-acre En Champs vineyard date to 1945. Their yield has dropped significantly in the decades since, but the quality of their fruit improves each year. Quivy's style is silkiness and elegance, which harmonizes well with Gevrey's typical muscular fruit.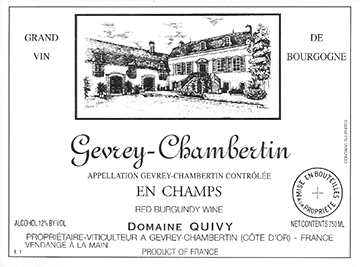 Class.  Last year's Guide Hachette, the premier French language wine guide, describes Quivy as "undoubtedly one of the reference points in the appellation." His wines are not the rich meaty Gevrey-Chambertins of old — these are finer and more delicate. Today's wine, the 2014 En Champs, shows clarity and precision layered over the rugged fruit from these 70 year old fines.
The 2014 En Champs is young but very elegant. The nose shows toast, licorice, and ripe red currants. The flavors are classic Gevrey — plenty of ripe tannin alongside pleasant young briary fruit — but the finish is more elegant and finer. As with Quivy's other village level Gevrey "Journaux," additional patience will be rewarded, but with a decanter it isn't required — today this is handsome, crisp Burgundy in unusually elegant dress.
________________________

QUIVY Gevrey-Chambertin "En Champs" 2014
Ansonia Retail: $60
3+ bottle price : $49/bot


FREE EAST COAST SHIPPING ON ANY 12 BOTTLES