Timing.  Patience is uncommon in our fast-paced world. Today's wine consumers tend to drink wines too early, or to avoid age-worthy bottles all together. So whenever we can, we look for opportunities to import wines that are near their optimal drinking window.
Today's wine isn't one of the great wines of the world, and it isn't even all that old. But it's a well made wine from excellent terroir, that needed a few years to knit together. And now with six years under its belt it's impeccably aged, perfectly mature red Bordeaux — an elegant red wine for today.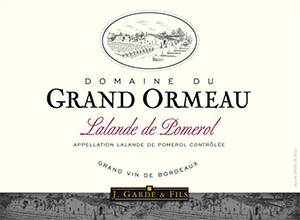 Mature.  Lalande-de-Pomerol is a less fancy neighbor of the famous town of Pomerol, home to some of the world's most expensive wines. Our new producer here is the Domaine du Grand Ormeau — their Lalande de Pomerol is 80% Merlot, and 10% each of Cabernet Sauvignon and Cabernet Franc. You won't mistake this wine for the real Pomerol, but you won't mistake the price either.
The 2011 Lalande-de-Pomerol from Grande Ormeau is beautiful wine, aged in the cellar where it was bottled until last month. The nose is soft and welcoming with notes of berry jam and forest floor. The mouth is smooth and lively, with perfectly softened tannins producing a sophisticated, serious but accessible mouthfeel.
With six years since the harvest, the oak of this wine has integrated seamlessly, and the tannins have reached perfect maturity. In short, this is beautiful Right Bank Bordeaux, requiring no cellaring at all.
________________________

Grand Ormeau Lalande-de-Pomerol 2011
Ansonia Retail: $30
6+ bottle price : $25/bot
FREE EAST COAST SHIPPING ON ANY 12 BOTTLES