It's still summer for a few more weeks, but in the Northeast the evenings are already starting to feel like fall. Châteauneuf-du-Pape is the ultimate cold weather wine, and while it's at its best in the dead of winter, well balanced examples are an excellent way to slide into autumn.
The Chateau Maucoil is a centuries old winery in Châteauneuf-du-Pape, built on the site of a Roman-era spring. Many readers have enjoyed Maucoil's unusual and delicious "Cuvée 1895," made from 120-year-old vines just outside the appellation. Today's wine is the real deal — a blend of Grenache, Syrah, Mourvèdre and Cinsault, it's a classic, easy-drinking Châteauneuf-du-Pape with great depth and careful balance.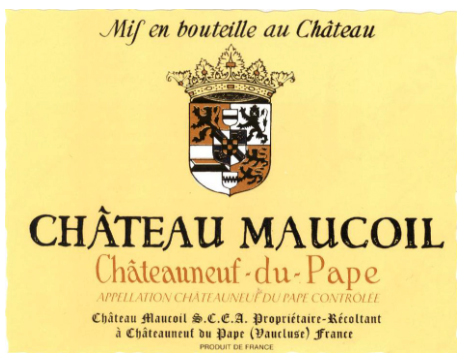 Maucoil's high percentage of Greanche produces and an expressive and enticing nose — look for red notes of strawberry jam and lavender. The other three grapes contribute darker notes: licorice, chocolate, and tobacco. On the palate the wine is concentrated and juicy, with pleasant tannins presented in a long, silky mouthfeel.
It's hard not to like Châteauneuf-du-Pape — nowhere else in the world do popular grapes like Grenache, Syrah, and Mourvèdre come together with such complexity and intensity. From an appellation where bottles over $60 are commonplace, Maucoil's red is a refreshingly affordable bottle.
For readers in warmer climates (or those with a shellfish habit), we've still got plenty of crisp white left in stock. But with a chill returning to the evening air, we're glad to have some southern red around.
_______________________________________
Maucoil Châteauneuf-du-Pape 2014
Ansonia Retail: $40
6+ bottle price : $34/bot


FREE EAST COAST SHIPPING ON ANY 12 BOTTLES