It's almost harvest time in Burgundy. As winemakers gather their teams of pickers for the important weeks ahead, the hillsides of France begin to buzz with activity. This is an exciting time, full of promise, expectation, and celebration.
Here in the states the weather has started to cool, and as vendors of a fragile product we welcome the end of difficult shipping conditions. The wines we choose for our glasses are starting to get richer and fuller, so we've picked four to share with you. Two full white Burgundies, and two smooth reds from the south.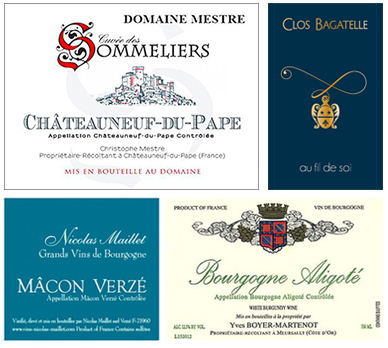 Maillet Macon-Verzé 2015
A smooth, unoaked white Burgundy with unusual purity and clarity. Look for notes of honeysuckle, green tea, and mango.
Boyer Aligoté 2015
This barrel-raised aligoté is far richer and smoother than most. Look for notes of baked lemon, nuts, and crême brûlée.
Mestre Châteauneuf-du-Pape 2013
A dark, classic, smooth red blend from the warm south of France. Look for notes of garrigue, wild cherry jam, and leather.
Bagatelle Fil de Soi 15
A rich, meaty syrah blend from the hills of the northern Languedoc. Look for notes of blackberry jam, lavender, and toast.
___________________________
Mixed Case: Almost Autumn Sampler
Ansonia Retail: $348
offer price : $295/bot


FREE EAST COAST SHIPPING