Simple.  Pinot noir is synonymous with Red Burgundy. With few exceptions, it's the only red grape Burgundians may grow. In Burgundy Pinot Noir produces some of the most extraordinary red wines in the world. But the grape also thrives elsewhere in France, yielding wines of a different character.
In Alsace, Pinot Noir is at its most relaxed. Away from the tradition and grandeur of Burgundy's historic estates, Pinot Noir takes on a freer, more youthful style. As readers know, we love the red wines of Burgundy — in fact they are most of our portfolio — but it's often nice to have some simpler Pinot around.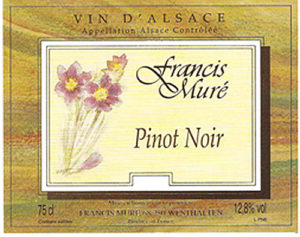 Easy.  Francis Muré is a warm, humble winemaker making small-batch wines in the town of Westhalten, near the French-German border. He's a true artisan — he smokes his own trout, makes his own duck confit, and has a real knack for winemaking. His wines are understated, delicious, and affordable — as unpretentious and welcoming as their author.
Muré's 2016 Pinot Noir is a delight — it's cool and dark and refreshing, with notes of blueberry jam, wild honey, and plum.  Its crisp texture makes it easy to pair with hearty foods — think spicy pasta, cheese and crackers, burgers, etc.
High-end Pinot Noir has its time and place, and if that's what you're after we can help. But it's good to get to know the grape's less serious side.
_______________________________________
Muré Pinot Noir 2016
Ansonia Retail: $24
6+ bottle price : $19/bot


FREE EAST COAST SHIPPING ON ANY 12 BOTTLES