Discovery.  The Gamay grape has had a turbulent history. In 1395 Duke Philip the Bold concluded Gamay was "evil and disloyal," and banished it from the northern half of Burgundy. For the past six centuries it has found refuge in Beaujolais, where it produces mostly simple reds — fruit-forward and inexpensive.
Last June we happened across an small-scale, undiscovered Beaujolais producer named Jean-Marc Monnet. From a year with unusual sunshine and warmth, Monnet's three Cru Beaujolais from 2015 are more intense and vibrant than any Beaujolais we've had before; Monnet ended up being one of most exciting discoveries of our trip.
Forget everything you know about Beaujolais (particularly nouveau), this is intense, delicious, inky red wine — think the fruit profile of a Pinot Noir, but the weight of a Northern Rhone Syrah.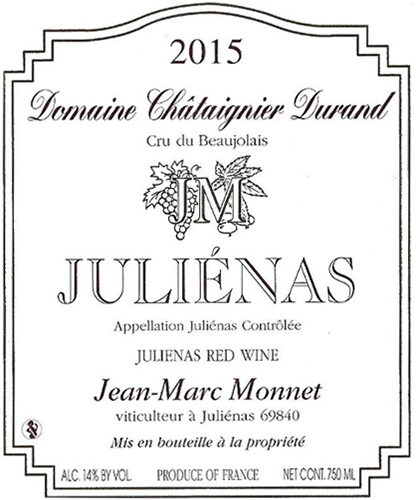 Smooth.  After this wine sold out in a few hours last year, we called Monsieur Monnet to reserve more, and the second wave has just arrived in our warehouse. Made from 25-50 year old vines, this is smooth, rich, complex and simply delicious. It has more concentration and energy than much Bourgogne rouge from further north, and comes in at about half the price.
The color is inky purple, with a dark and earthy nose showing cranberry and pure wild cherry. The mouthfeel is intense and smooth with a long, dense finish of graphite and violets. This is delicious and intense, but, as Jancis Robinson puts it, "meant to be drunk, not contemplated." It's best described in French as gouleyant, a wonderfully onomatopoeic word that means "gulpable," which perfectly captures the essence of good Beaujolais.
We opened this yesterday at our warehouse tasting in Newton, and based on how much walked out the door, it might be even tastier than it was last year. Skip the Nouveau this fall — for a buck or two more, Monnet's dense, silky reds might be the best $16 you'll spend all season.
____________________________
Monnet Juliénas 2015
Ansonia Retail: $20
6+ bottle price : $16/bot


FREE EAST COAST SHIPPING ON ANY 12 BOTTLES