The famous wine writer Hugh Johnson once wrote, "If one had to single out one commune of Bordeaux to head the list, there would be no argument. It would be Pauillac." This tiny town in the heart of Bordeaux is most famous for its three superstar chateaux: Latour, Lafite-Rothschild, and Mouton-Rothschild. But there's more to Pauillac than just these legendary vineyards.
This spring we were pleased to discover a small scale producer here, one that Decanter's Jane Anson calls one of "the last little guys of Pauillac." Indeed Adrien Lagneaux's property is tiny — a mere 3000 bottles from just over an acre of vines — but the quality is exceptional. Lagneaux's high percentage of Merlot (80%) makes it smoother and less austere at this stage than many other wines from the town.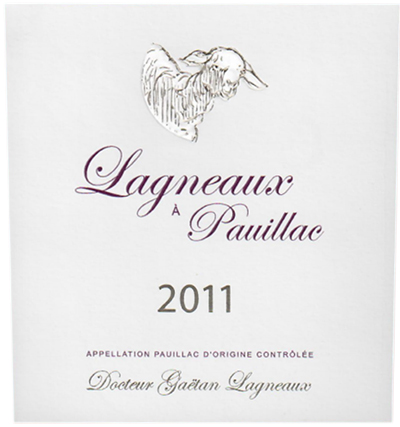 This is young wine, with no small amount of oak showing through. But the oak has already started to knit together nicely since it arrived in June, and by the holidays it should be a treat. The nose is ripe and very deep, with a melange of ripe raspberry, plum, iodine, earth and minerals. The mouth is extremely dense and rich, with juicy plum fruit and a cool woodsiness.
Anson from Decanter called it "rich, intense, powerful," and "sexy." We expect this to age well for another decade or more — it's dense wine and certainly built to stand the test of time. But the bottle we opened last night rounded out beautifully after an hour — next to a stew or well browned meat this fall or winter, it will be a welcome guest on your table.
Chateau Lafite this wine is not. But at $780 a bottle, Lafite is 11 times the price, and we're pretty confident it isn't eleven times better. If you've got room in your cellar for a Pauillac to enjoy over the next decade, consider this one.
____________________________
Lagneaux à Pauillac 2011
Ansonia Retail: $80
3+ bottle price : $69/bot


FREE EAST COAST SHIPPING ON ANY 12 BOTTLES