Chablis remains among the best bargains in the wine world. Its wines are always more affordable than their counterparts in the Côte d'Or, a result of damage to the name from imitation "California Chablis" of decades ago. Drawing from the distinctive Kimmeridgean terroir and a tradition of subtle or no oak, the winemakers of Chablis create some of the purest expressions of Chardonnay in the world.
Today we're excited to introduce a wine back into our lineup — the old-vine Chablis from the Domaine Jean Collet. Collet is an excellent producer with properties in well-known Premier Cru and Grand Cru vineyards, but their simpler wines are just as well made, making them exceptional values. This is classic Chablis — crisp, dry, fresh, and brisk.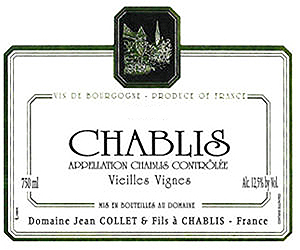 We've just restocked on the 2015 Chablis cuvées from Collet, and they're simply delicious. Grown in a year with record heat around France, they carry a bit more roundness than Chablis often does — but father and son winemakers Gilles and Romain Collet were careful to pick early enough to retain freshness and acidity.
The result is an excellent balance between crisp chardonnay fruit and stony mineral freshness — the added ripeness means these will drink well immediately. The 2015 Chablis Vieilles Vignes is bright and savory in the nose, with notes of herbs and lime rind. The mouth is dense and electric, with notes of lemon, saline, and white flowers.
With its refreshing mouthfeel, Chablis is a perfect food wine — think salads, roast chicken, and anything from the sea. But with 2015 giving just a bit more softness than usual, this will makes a lovely aperitif as well.
____________________________
Collet Chablis Vieilles Vignes 2015
Ansonia Retail: $30
6+ bottle price : $25/bot


FREE EAST COAST SHIPPING ON ANY 12 BOTTLES