The père half of Ansonia is in Burgundy this week, working as a member of a harvesting team in Vosne-Romanée (check our Facebook page for visuals). Early signs point to an excellent 2017 vintage, though we won't get our hands on it any time soon. Most won't be in the bottle until 2019, and the wines themselves will mature over the following decade.
As the grapes begin their long journey this week, it can seem like an eternity until that wine is ready to drink. But luckily we've got some bottles kicking around the cellar that have already completed much of their aging. Today's collection is a half-case of six of our favorite red Burgundies — five from the exceptional 2009 and 2010 vintages, and a drink-now 2001 thrown in as well.
This six-pack ships for free, and includes one bottle of each wine; quantities extremely limited.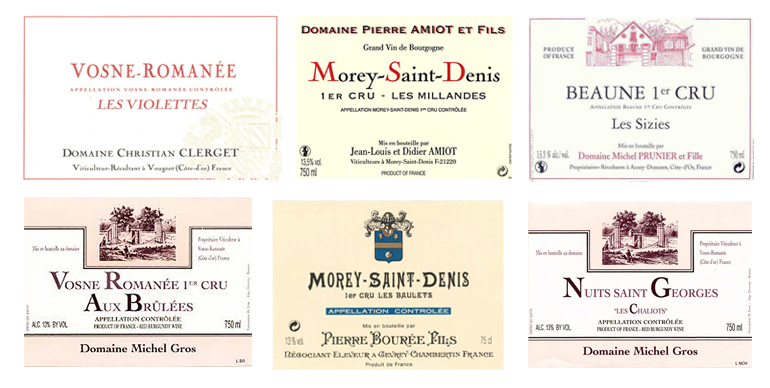 Clerget Vosne-Romanée "Violettes" 2010
Clerget's style is refined and classy; they destem all their fruit, resulting in smooth, ripe wines that are easy to like. Clerget's Violettes vines are over 70 years old, and their small, concentrated yields produce only 100 cases per year.
Bourée Morey-St-Denis 1er cru "Les Baulets" 2001
With 16 years under its belt, this wine is at perfect maturity; it has been stored perfectly in the Bourée cellars until last year. It's deep, intense, and woodsy in the nose, showing stewed prunes, barnyard, mineral, and spices.
Gros Nuits-St-Georges "les Chaliots" 2009
Michel Gros's Nuits-St-Georges is from the heart of the appellation, near the famous "les Saint Georges" vineyard. The terroir there produces dense, meaty wines. When married with Gros's signature silkiness, the result is unusually elegant for a Nuits.
Prunier Beaune 1er cru "les Sizies" 2010
Prunier's premier cru reds can be difficult in their youth, but with 7 years since harvest the edges have all softened in this wine. From a plot just west of the city of Beaune, this wine shows baked spiced cherries and notes of cedar and earth.
Gros Vosne-Romanée 1er cru "Aux Brûlées" 2009
The Aux Brûlées vineyard sits immediately next to the famous Richebourg vineyard, on the most famous slope of vines in the world. Michel Gros's Vosne 1er cru is exceptionally pretty, with a perfumed nose of violets, cassis, and stones.
Amiot Morey-St-Denis 1er cru "les Millandes" 2010
Pierre Amiot's style has shifted in recent years to create earlier maturing cuvées. But the wines still age gracefully and with style. This wine is drinking exceptionally well today, showing smoke and mushroom and plum in the nose, with cool minerals and elegant silky fruit in the mouth.
____________________________
Curated Six: Old Red Burgundies, 2001-2010
Ansonia Retail: $531
Sale price : $429/sixpack


FREE EAST COAST SHIPPING ON ANY 12 BOTTLES